Here are 10 reasons why your Amazon sales have dropped
We regularly get asked and read on Amazon seller forums from many disgruntled sellers "why have my amazon sales dropped" and ultimately asking what they can do about decreasing sales on the platform. Correspondents tend to give helpful but sometimes conflicting or incorrect info, so we thought we would run through the reasons why sales have dropped starting from the most obvious down to some really obscure reasons we have seen sales drop offs.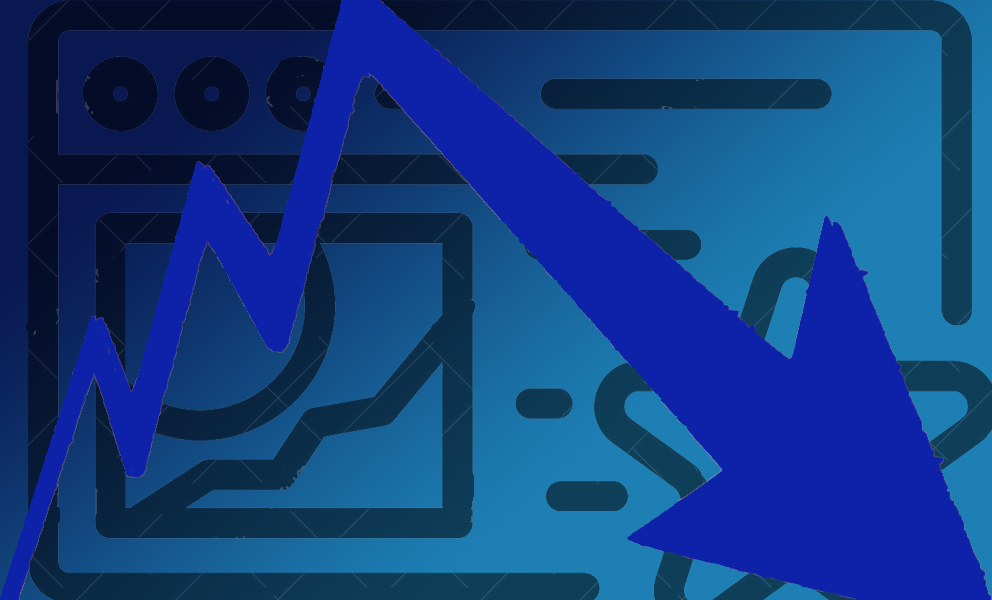 Remember ranking on Amazon is all about sales velocity and if Amazon doubts your ability to perform to the same ability as your competitors this will have a huge negative impact on your selling account.
So I will cover all points from most obvious to the most obscure.
1) Natural changes and cost of living increases
The most obvious change is what's happening in the economy and seasonality, interestingly we see our clients doing year-on-year comparisons for amazon sales, which would be fine however comparing against the covid timeframes means these figures are going to be vastly different, only a handful of our clients saw an uplift on their sales, so be wary of making this comparison.
2) You Pricing is too high or you have buybox competition
Where to find: Pricing > Pricing Health.
This seems obvious but the flipside of the price of living increases and fuel, Brexit, war and other elements means pricing is sensitive and our clients are keen to capitalize on margins right now, however, we have to be mindful of competitors also making the jump, as well as unruly amazon sellers who are not paying VAT or not estimating their fees correctly, remember FBA fees (at the time of writing – July 2022) implemented a 4.3% fuel increase on all FBA shipments which we know a lot of businesses haven't taken into consideration.
Review your pricing against competitors and beware of pricing your products against Amazon marketplace fair pricing policy, as this will put your listings to inactive or make your buybox inactive.
Buybox competition goes hand in hand with pricing. Even though it's a myth that losing the buybox to a competitor on your product listing is just price focused, it's a key component and you must be clear on any retailer or wholesaler that is also selling your product.
The simplest way to do this is to review your reports > business reports > detail page sales and traffic and review the "featured offer" metric. If this metric is less than 85 – 90% its likely another business is attracting the buybox. Review their offer and metrics. Remember its not just about price, look at their fulfilment method (whether they are using FBA or not) as well as their seller review score.
Remember to report a violation if you are convinced this product is a fake.
3) You are occasionally running out of stock
Where to find: inventory > inventory planning
Being out of stock on Amazon is an ugly situation. Amazon depends on sales velocity for you to rank, if you are regularly going out of stock this will take an impact on your rankings keep a close eye on your inventory health and crucially if your utilising FBA make sure your IPI score is high and your stock churn rates remain healthy.
4) A shift in your customer reviews
Where to find: Brands > Brand reviews (Brand registered businesses only), Performance > voice of the customer
You may have steadily built some great reviews using Amazon vine or good solid customer feedback from selling your products with a strong history but have you reviewed your recent review scores?
Remember to use reviews to pivot against your product listing and make any needed customer experience improvements – for example if your getting issues with damaged items, review packaging improvements or start to use carton packed items into Amazon FBA.
5) A shift in your Amazon seller reviews (DSR)
Where to find: Performance > Feedback
Many Amazon sellers do not realise that other metrics inside your Amazon account reflect on ranking losses meaning all that beautiful work on your product listings become redundant. If you have any percentage of neutral or negative feedback in the last 30 – 90 days its likely this will reduce your buybox chances if your competing with other sellers because Amazon will rank better a business with higher customer expectations, or if you're the only buybox owner of a product you may see ranking drops here.
Tip: many sellers will incorrectly leave a product review on your feedback manager page page, this should be easy to remove especially if its an FBA item, just contact Amazon for a removal.

6) There are changes in mandatory fields for your category
Where to find: Inventory > Manage inventory, review "search suppressed and inactive listings" as well as "listing quality dashboard" and "manage inventory health"
You may find some of your items have become "search suppressed" if Amazon have recently brought in new mandatory fields for your category. This happened recently with Amazons requirement of "country of origin" being introduced.
Remember to review the recommendations on your listing quality dashboard regularly, as if competitors fill these in this can give extra value to their product listings
7) Your competitors have improved their customer experience
Where to find: use your highest volume search terms on Amazon to understand competitors.
If you are still using FBM (Fulfilled by merchant) or SFP (Seller fulfilled prime) and your competitors are using FBA (Fulfilled by Amazon) then you're at a huge disadvantage for ranking as Amazon will prioritise the ones with leading customer expectations. Even though SFP is strictly "prime" we regularly see its delivery windows become less competitive than FBA.
They could also have reduced their handling time or changed their courier service.
8) You are not competitive enough with your advertising
In the last 10 months we have reported an increase on some categories CPC (cost-per-click) by 200 %, More sellers join Amazon and realise that the advertising model is key for product launches, however this puts your CPCS up and naturally increases your products ACOS and cuts your margins, this is why its key to be able to review monthly your advertising spend and return as well as compare it against your business reports.
Its imperative to understand that advertising has a key impact on your organic sales too because of the Amazon sales velocity metric, so reducing your advertising can also have a negative impact on your organic sales too, rremember to stay competitive, analysis strong, long tail keywords to keep your ACOS as tight as possible.
Also its good to remember that's a low tight ACOS is imperative on customer trust (reviews) and a quality listing that with a high conversion rate. Learn more about Amazon advertising here
9) You are losing the buybox for account health reasons
As well as overpricing and another seller jumping on to your products, there are several other reasons you can get losses to your buybox even if you are the only seller. We regularly get asked about this, and this is an exhaustive list of why sellers lose the buybox even on their own listings.

Account health metrics poor. Usually long term problems with policy compliance and delivery performance such as order defect rates, policy violations or valid tracking rates, these issues long term will give you an Amazon suspension, but in the short term will lead to buybox losses.
NCX. Negative customer experience on certain product lines, you can monitor this by going to performance > voice of the customer and reviewing any poor or very poor listings.
DSR. We mentioned above that a shift in Amazon seller reviews can lead to poor feedback stemming buybox losses on all your products.
Performance Notifications. Review your performance notifications regularly to spot any key issues, these sometimes come as emails to but are also vital to stay on top of as not actioning them can also lead to buybox loss and suspensions.
10) Review long term "unit session percentage" in your business reports
Where to find: reports > business reports > detail page sales and traffic.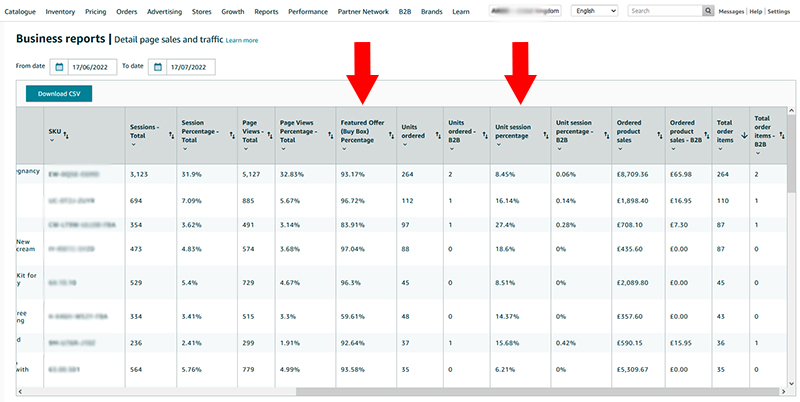 So many sellers do not know about this metric or where to find it but this metric is effectively the conversion rate of your products.
You can review historic data on your unit session percentage for example compare last 30 days to the previous 30 days before or beyond to see if there's any big swings in your products conversion rate. If its much lower now this could suggest lack of customer faith in the product, you will need to do deeper competitor analysis on this line as well as review the key points from above.
Synopsis
Review these key points to identify faults in your inventory, we guarantee that most businesses probably know the first 3 points but there are so many reasons why sales can drop. Get in touch with us