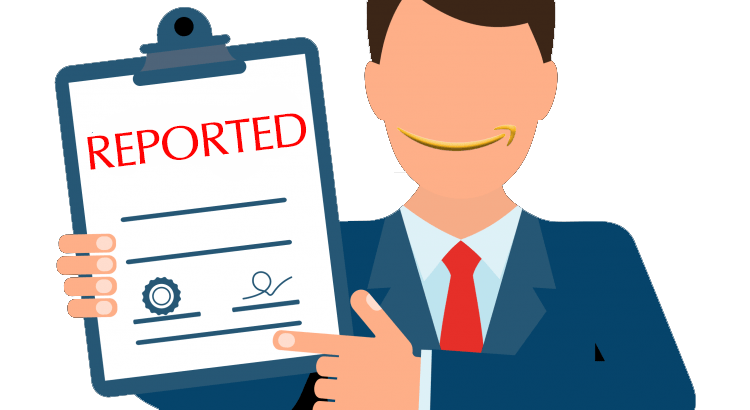 How To Report A Seller on Amazon
The Amazon platform hosts around 2 million third-party sellers. Last year, they made up 62% of the platform's total sales. Amazon sends out approximately 66,000 orders per hour to buyers around the world, which translates to about 18.5 purchases each second.

With that in mind, it's no surprise that not every purchase – or every seller – is quality. You may easily run into a product that doesn't:

• Work or function
• Match its product description
• Line up with Amazon policies

Third-party sellers can also do shady things to try and succeed on the Amazon storefront. If you've ever seen that happen, it's natural to wonder if you can report the seller.

Both buyers and sellers can file an Amazon report on a seller, although the process is different and can be a little confusing. Even still, it's very important to report anyone who's violated Amazon's policies, whether that's by sending you inappropriate messages or trying to buy positive reviews from you.

Here's how to report a seller on Amazon for functioning outside of the terms of service. This can help you improve the platform and keep your experience on Amazon safer, happier, and more beneficial.
Determine What Policy Has Been Violated

You can only report a seller for violations of the Amazon Selling Policies. If you simply dislike a product or have decided that you don't want the product, that's not something you can report to Amazon.

Instead, you can report if someone has intentionally misused the Amazon platform to try and sell more products. Here are the specific elements that Amazon includes in their Selling Policies and Seller Code of Conduct. Sellers must:

• Provide Accurate Information to Amazon and Amazon Customers
• Act Fairly Without Misusing Amazon's Features and Services
• Not Try to Damage Other Sellers, Listings, or Ratings
• Not Try to Influence Ratings, Feedback, and Reviews
• Not Send Unsolicited or Inappropriate Messages
• Not Attempt to Contact Customers Except Using the Buyer-Seller Messaging Platform
• Not Try to Misuse the Amazon Sales Process
• Not Operate More Than One Sales Account on Amazon Fraudulently

Of course, some of these factors are broader than others. For example, if a person states that their product is "sponsored by Amazon" or "endorsed by Amazon," this is not providing accurate information, because Amazon doesn't endorse or sponsor products from third parties. That means it is a violation of the Selling Policies.

You should be relatively sure that the seller has actually violated one of these policies before you report a violation to Amazon. Remember, reporting is for serious problems, and you should treat it as such.

Gather Documentation of the Policy Violation
If you tell Amazon that a seller has violated their Selling Policies, they'll have some questions. If you can't prove the violation, Amazon is unlikely to take any steps toward the seller that you report.

Before you report someone, make sure you have documentation of any times that the seller has violated the Selling Policies. Documentation may include:

• Pictures of the Product including barcode
• Order IDs
• Messaging
• Receipts

The more documentation you have, the better. For example, if a seller is offering you a special reward, but only if you give them a positive review, you can take a picture of anything that indicates this exchange. If the seller advertises this on their social media sites, you can even collect the links for each one individually. More documentation makes it more likely that Amazon will take action.
Try To Contact The Seller Directly
For many individuals, the first thing to do is to contact the seller directly. For example, if you're frustrated about the quality of the product that you have received and you feel like the seller was untruthful about something in their product listing, message and tell them so. Chances are, they'll respond to you and help you return the product.

In many cases, you can work through the problem directly with the seller, which means you don't even have to get Amazon involved. Because many sellers use Amazon as one of their main sources of income, this can be much better for both you and the seller. Amazon always recommends that you talk to sellers directly first.
Contact Customer Service or Use the Seller Abuse Report Form

If you're not able to work out your problem with the Amazon seller directly, and you believe they're violating the Selling Policies, you can report the individual directly to Amazon.

Depending on whether you're a buyer or a seller, however, you'll approach this differently. Here's the step-by-step Amazon report seller process.
If You're a Seller
If you're another Amazon seller, there's a specific process that you can go through to report a potential violation of the Amazon policies. Amazon thoroughly investigates every violation that it receives, although it can't necessarily disclose the results of each investigation for privacy reasons. If you're concerned about another seller's listings or tactics, you can use the Report Abuse tab on the Seller Central Amazon website.

Under this tab, you will select the type of violation, the Order ID or ASIN/ISBN, and the store or business name of the seller that you're reporting. You should also give an explanation of the violation and how you feel it relates to the Amazon policies, as well as upload any documentation you have. Amazon will receive the report and take whatever actions it deems necessary.
If You're a Buyer
Unfortunately, while sellers have a dedicated Report Abuse button available to them, buyers don't have the same option. The good news is, buyers can still report abuse of the system happening through the Amazon platform, so long as it's actually going against the Amazon Selling Policies. You just need to know how to report a product on Amazon in the right way.

Your best option is to use the customer contact option. Contact customer service through the online portal. It will first connect you to a chatbot, which may be able to fix your problem. If the bot can't help, it'll connect you to a customer service representative who can. Give them all your information and let them take it from there.

Brand Owner? Report A Violation To Get Onto Project Zero
If you are a brand owner and have a registered trademark you can "report a violation" inside Amazon's brand registry programme. getting two succesful violations against sellers can give you Amazon;s "project zero" protection allowing you to protect your brand from counterfeit and fake products, it can also help restrict products by making sellers provide proof of purchase.
Amazon Product Authenticy Complaints
Reporting a seller on Amazon is typically a last resort, saved for when you truly feel the seller has broken the terms and conditions set out by Amazon as a service. However, whether you're a buyer or a seller, you can do it. With this guide, you can not only report a seller on Amazon, but actually ensure that Amazon can do something about it.
How we can help
We are a major amazon agency and most of our clients are brand owners, we regularly help them make the most of Amazons brand registry tools and brand protections. Why not see more from one of our case studies here about how we helped a major toy manufacturer overcome fakes and stop others from selling counterfeit items