4 Advanced & Unique Tips to improve your Ads on Amazon
Advertising on Amazon can be a tough cookie to crack. Between your Amazon sponsored products and PPC strategy, for example, there are many elements to consider, all of which can have a major impact on the performance of your Amazon ads.
Since the subject is such an expansive one, for now, we're going to focus on four core elements which will help improve your advertising for Amazon or rather, how you advertise with Amazon: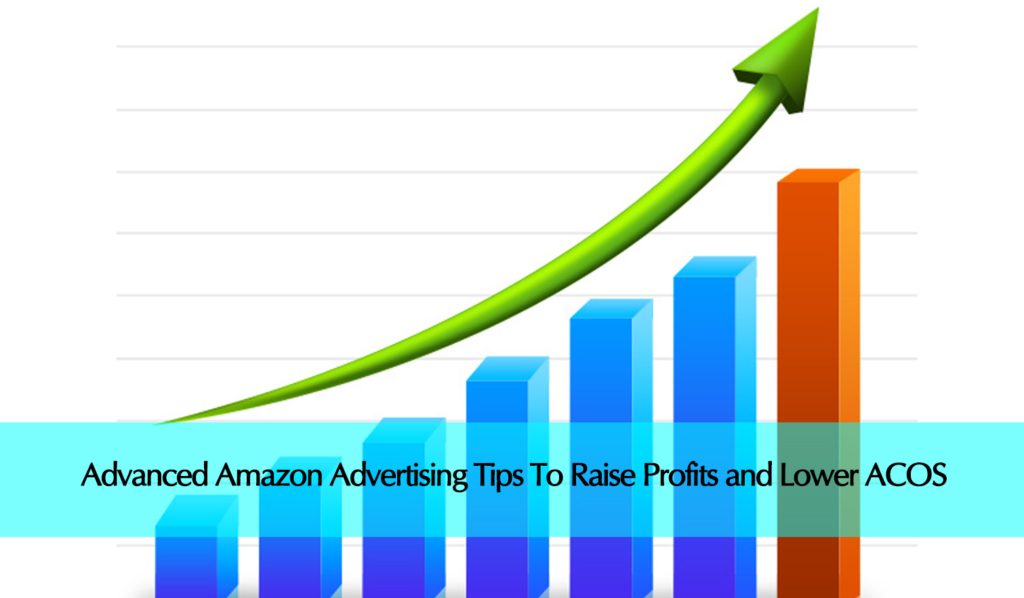 1. Measure your Unit Session Percentage in Business Reports
Nearly all sellers face two major challenges when selling Amazon sponsored products: drawing traffic to their listings and converting that traffic into paying customers. In order to measure this metric, you need to look at your 'sessions' and 'unit sessions percentage', otherwise known as traffic and conversion rate.
If your unit session percentage is poor, then chances are your ad performance will suffer. This inevitably will lead to your listing not selling at all or generally not selling as well as it could – because there's either not enough traffic going to it or that traffic isn't converting fast enough to customers.
So, what we need to do is a little bit of testing. This may involve testing fresh front-end keywords, content, and advertising campaigns or even looking into resolving restricting backend issues.
Moreover, increasing sales by optimising your Amazon sponsored products ads will require a constant and persistent effort. A good way to start is by viewing the data accessible through the Business Reports section of Seller Central. This business data must be analysed every month to identify new opportunities. It can be a very cumbersome task to do this on your own, which is why most sellers work with a PPC management agency or an Amazon PPC agency.
So, let's look at our top traffic listings and see how well they are converting. If your conversion rate is below 8%, for example, then there's plenty of opportunities here for sales growth – small shifts in conversions can potentially lead to huge increases in sales.
Next, look at your top converting listings to see where your sessions numbers lie. We need to focus on listings with more than 100 sessions per month and that's for a very good reason – if your listing indicates under 100 sessions per month, there's definitely an issue holding it back. Just check your listings' categories and see that the product title, bullets, and description are fully in line with Amazon's style guidelines for the respective category. However, specific backend issues like lacklustre images may be holding your listings back too.
Once you have your listings with 100 sessions a month and see generally good conversion rates, you need to determine how higher traffic will affect your overall conversion rate. One way to drive additional traffic is by using Amazon sponsored product ads. But if that doesn't work, you can split test your content to see what impact that has on traffic.
In any case, a PPC marketing company or PPC advertising agency can help you make the most of Business Reports to measure the impact of traffic on your ads and, subsequently, improve your advertising on Amazon.
2. Run Auto Campaigns for keyword generation and use relevant keywords in listings
Keywords are pretty much the building blocks of your campaigns for Amazon sponsored products. Therefore, extracting and utilising the correct keywords is a critical part of every PPC campaign.
Although there are apps available that 'promise' to help you harvest the best-performing keywords and search terms for your campaigns, undeniably, the best way for finding the relevant keywords is by consulting an Amazon marketing services agency who can help you extract the best keywords based on your product, audience, sector and competitors.
The first thing we need to do here is to harvest high-performing keywords using Auto-campaign. This is a great strategy for maximising your PPC advertising on Amazon. However, you must start by running automatic and manual campaigns for the same product listing for at least a week or two. After you've run auto-campaign for a few weeks, look at the search term report to find keywords that generated good sales and yielded a low ACoS (advertising cost of sales).
Let's say in your auto campaign for a men's grooming product, the search term "beard shampoo & conditioner" generated a good deal of sales along with a low ACoS – add that term as an exact match keyword in your manual campaign. This will maximise conversions and help to reduce ad spend. Learn more about ACoS here
In addition, look for high converting search terms in your broad match – i.e. terms which have a lower ACoS than the target ACoS and a solid conversion rate – and phrase match that with your targeted manual campaigns. Now move the search terms as exact matches to optimise your RoAS and reduce ad spend.
There's a lot more that goes into using auto campaigns for keyword generation and then extracting the relevant keywords in your listings – we've barely scratched the surface here, although it should give you a good starting point. In any case, a PPC marketing company can provide tailored guidance and advice to get the best results possible.
3. Use one ASIN per campaign group
Why? Because this will help you filter your keywords and relevancy.
If you're grouping your products, don't. Creating a single setup per ASIN (Amazon Standard Identification Number) gives you the best control over your targeting, budget, and Amazon CPCs (cost per clicks).
Let's look at it another way:
Whether or not you can even group your products to begin with depends on the product's diversity and quantity. Generally speaking, products can be grouped if they share:
The exact same keywords
The same profit margin
For instance, you have a donut-shaped float and an avocado-shaped one – both have a lot in common, don't they? After all, they're both novelty swimming pool floats that look like foods. You can certainly imagine someone looking for one of these and ending up buying the other.
Well, does that mean they ought to be in the same ad group?
Definitely not! They're not interchangeable, you see. The qualities which make them both unique are significant enough that they will likely be reflected through distinct search terms.
Now, regarding CPCs – let's assume the donut-shaped float is more popular (but, of course!), your competitors are likely to bid more aggressively for those keywords – which means you'll also need to bid very aggressively to get the same clicks. This drives up CPC for the entire group. So, in essence, you don't want to be advertising an avocado if you're paying for a donut.
Pretty much the same logic is applicable to your Amazon budget. If both products are in the same campaign, you will not be able to allocate a precise budget to one product alone.
Finally, if both products' profit margins differ drastically, you will not be able to calibrate let alone read the PPC campaign's ACoS in an accurate way. Even if your gut instinct tells you to group product variations, absolutely do not group products unless they are exactly the same.
4. Monitor your PPC strategy daily but don't make decisions on a day-to-day basis
Continue to monitor and review your ad reports at least once a week, adding, subtracting, and tweaking keywords as and when needed. Daily monitoring will not yield favourable results as you need a few days at least to see the effects of any PPC strategy.
In addition:
Experiment! Test out every type of PPC ad campaign, and play around with both manual and automatic keyword targeting to determine which one best fits your brand.
Do you research and due diligence. This means performing extensive keyword research where you focus on related keywords and your competitors' products. Working with an Amazon marketing services provider can help you nail this aspect and much more, when it comes to advertising on Amazon.
Plan your budget. As you're starting out with your PPC strategy, set your daily budgets and default bids to at least 50-100% higher than what Amazon says you should. Believe us, it will pay off big-time, especially in the long run.
Set your duration. Let your ad campaigns run for a minimum of two weeks before running reports and using them to make adjustments. One week is play too, but two weeks is optimal.
A word on campaign types. Use the ad reports from your automatic campaigns to look for relevant keywords for your manual campaigns. However, before making any adjustments or getting rid of a keyword from your manual campaign, ensure that the keyword gets a minimum of 10 clicks.
Bonus tip: Try Amazon Attribution
Amazon has come up with Amazon Attribution, a free advertising tool allowing brand-registered sellers to measure external advertising performance. But wait – how is this relevant to advertising on Amazon or Amazon sponsored products? It's relevant in a number of ways, actually.
Using Amazon Attribution, you can measure both the impact and ROI of video media, email marketing, social, search and display ads. With that data at your fingertips, you'll have valuable insights into how users are discovering, researching, and purchasing your products on Amazon. Pretty nifty, isn't it?
If you think about it, it's very important to have performance data on your campaigns running outside of Amazon – thus, preventing you from carelessly throwing valuable resources at Facebook or Google ads. After all, you need to make sure that those channels are actually working for you and not against you.
With Amazon Attribution, you can measure, optimise, and plan ahead – all the data from your off-Amazon campaigns can be viewed via downloadable reports.
Now, the main reason this is important: once you are able to fully optimise your ads on more than one external source (FB, Twitter, Instagram, YT, etc.), you can drive that external traffic to your Amazon listings to:
Boost your seller rank
Improve your keyword rankings
Gain more information and insights on your customers
And, even earn up to a 10% referral bonus on all Amazon sales driven by external advertising
Closing thoughts
While this article offers good starting points with regard to advertising for Amazon, it pays to work with a PPC advertising agency to better understand "what does sponsored mean on Amazon" or how Amazon Attribution can help improve your ad performance. A deep pool of knowledge and insight awaits you where Chris and his team will tailor specific Amazon marketing services to help you squeeze the most ROI from your sponsored ads.