How To Sell On Amazon In 2023 And Increase Growth
Amazon growth is no longer just about listing optimization, Regularly, clients and potential prospects ask us "how much is it for 10 or 20 listings" and the real answer is: Amazon success just is not down to your product listings, even if you are the brand owner.
As a highly transparent consultancy we looked at every single task we billed to a client and found that listings only account for 18% of our total time. To really give you a better understand of how REALLY to increase sales on Amazon we have broken down our entire process end to end to give a full and realistic view on everything you need to do to produce a truly optimized amazon account.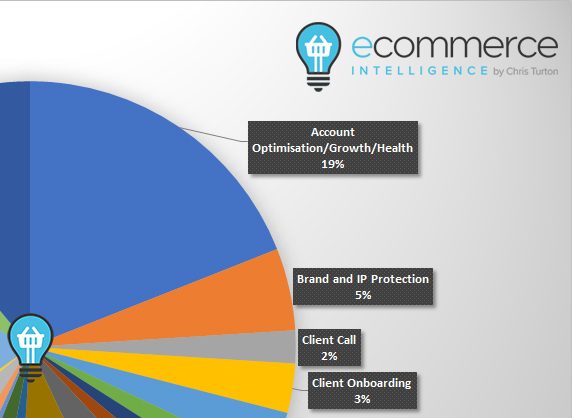 Account Optimisation/Growth/Health – 19%
Interestingly, account managementtasks become the largest part of our work and become a bigger task that just Amazon marketing, optimising an amazon account includes making sure clients are maintaining their account health metrics such as VTR (valid tracking rate) and LDR (late dispatch rate) as well as resolving issues with NCX (negative customer experience) and other tasks where Amazon could ultimately suspend or penalise your rankings.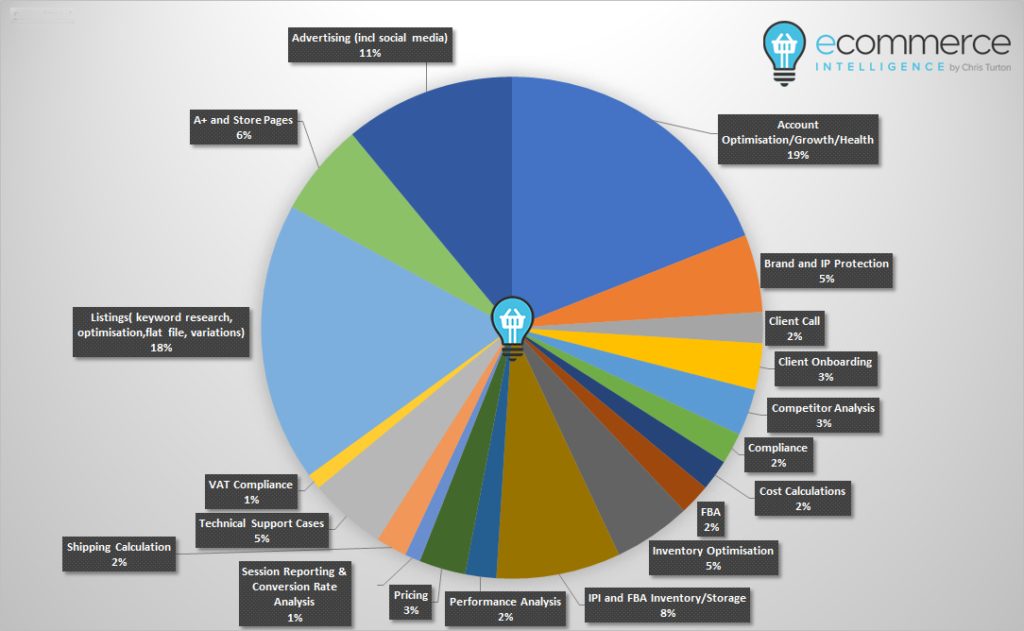 Listings – 18%
What most people think we do is just around amazon listing optimization, doing keyword research and analytics or building variations or "flat files" Amazon CSV uploads, whilst this is a huge part of our working process its such a fine tapestry between many different tasks and metrics.
Advertising (incl social media) – 11%
Advertising on Amazon is now mandatory for most, It accounts for 35 – 60% of organic, yes organic sales and needs utilising for new product launches or Amazons "honeymoon" timeframe, it also needs continuous refinement for brand optimisation and visibility. Paid advertising is also workable with good quality product listings. Learn more about Amazon ads
IPI and FBA Inventory/Storage – 8%
Amazon FBA storage limits are a huge segment of client profitability and of course, capacity and performance metrics that influence ranking. Running an Amazon FBA business requires a lot of work and guidance within your inventory performance index (IPI) and understanding of storage.
A+ and stores page – 6%
A+ and store pages may not directly influence ranking, but they do influence conversion rate leading to sales velocity which is Amazons biggest ranking feature.
Technical Support Cases – 5%
Dealing with seller, brand and vendor support is always an integral part of our process because of Amazons eco system, we understand the common responses and are usually able to bypass and overcome a lot of issues that many find difficult including complex brand registry issues. Understanding the complexity of support on Amazon and how to accurately deal with the team is a skill onto itself!
Brand and IP Protection – 5%
Amazon loves brands and manufacturers because it cuts the middle man out and the correct brand owner gets full access to their own listings and customer journey. Developing a clients brand story is key.
Inventory Optimisation – 5%
Outside of FBA, optimising amazon inventory whether its through stock control, inventory issues such as LQD (listing quality dashboard) or other elements is crucially important to making sure your product portfolio is kept healthy and all products have an equal chance.
Client Onboarding – 3%
We spend a good amount of time getting our new clients freshly onboarded with a solid action plan from day one. It doesn't matter whether the client has never sold before or has a large and varied inventory or serious brand issues.
Competitor Analysis – 3%
Analysing competitors and all elements to their listing and customer experience is a major factor for us to consider and to make sure our clients are successful in a competitive market.
Pricing – 3%
Revenue is great but focusing on margins allows clients to stay with us and maintain good levels of profitability., reviewing Amazon price increase's is also key to maintaining margins.
Performance Analysis – 2%
Being able to justify analysis using third party sources and competitors allows us to make and develop inventory goals to improve clients performance.
FBA – 2%
We handle some clients FBA shipments and processes behind the fulfilment channel, selling on amazon fulfillment is a major programme for most of our clients.
Compliance – 2%
Helping our customers deal with compliance steps such as certification is crucial for most new businesses and customers in gated categories.
Cost Calculation – 2%
Along with our pricing tools, also retrospectively reviewing costs and their fees to programmes such as Amazon is key to help maintain client profitability.
Shipping Calculation – 2%
Being able to calculate pallets, cartons in both FBA and FBM is crucial again to be able to maintain and develop client profitability.
Client Call – 2%
We speak to all our clients at least once a month via zoom or on calls, in addition to our project management software answering questions.
Session Report & conversion data analysis – 1%
Using business reports and brand analytics to help us make clear and concise tasks based on evidence is a key part of our work, poor conversion products allow us to handle optimising, good conversion products with low sessions allow us to look at broadening keywords and implementing advertising strategies with good returns.
VAT compliance – 1%
Giving insight into payments and transaction data is key, this occasional task means that we can align our fee calculators with exactly what is going on our customers disbursement reports.
This is the reality of what a full service amazon agency does to make sure your business is growing on the marketplace