FBA Fulfilment Fee Changes in 2022
Amazon have just announced the fee structure for Amazon fulfilled items beginning March 31st 2022 as well as introducing new tiers for sellers beginning March 31st.
New Size – Small parcel, XL envelope and Special oversize
Amazon's new small parcel tier allows products that fall within 34cm x 25cm x 12cm and weigh upto 3.9kg, this is as a smart move for Amazon because it allows customers who just peak over the royal mail 2kg threshold to be more keen to use FBA. it also allows new "special oversize" options for customers with big units to be able to store and keep their product inventorys within Amazon.
XL envelopes will allow sizing upto 6cm in width meaning some real improvements to small products that cant msatch Royal mails large letter format.
Whats changing?
We have highlighted in red the costs that are going up, thankfully no dimension tiers or weights are changing for existing groups, there is also an incremental option now for small oversize items, which as long as the dimensions stay the same, can allow some hefty items.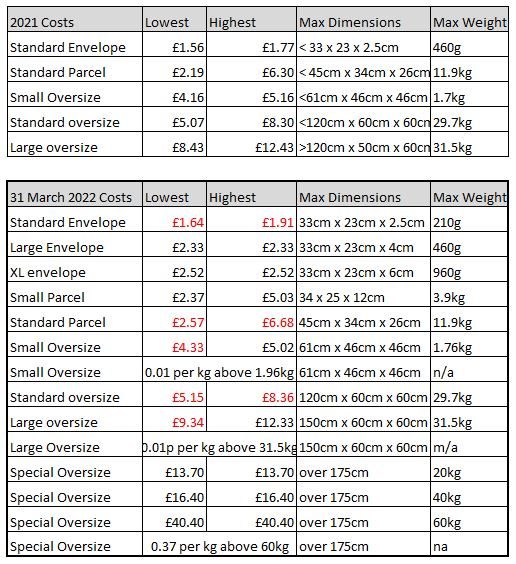 All in all, this is a smart move by Amazon to take FBA fulfilment more viable for options that are still currently more desirable for sellers doing small transactions via Royal mail, whilst at the same time yielding better profits on the most popular sizes.
Speak to us to learn more about FBa sizes and how it can benefit your business.