What is Premium A+ content and what makes it different to A+ content?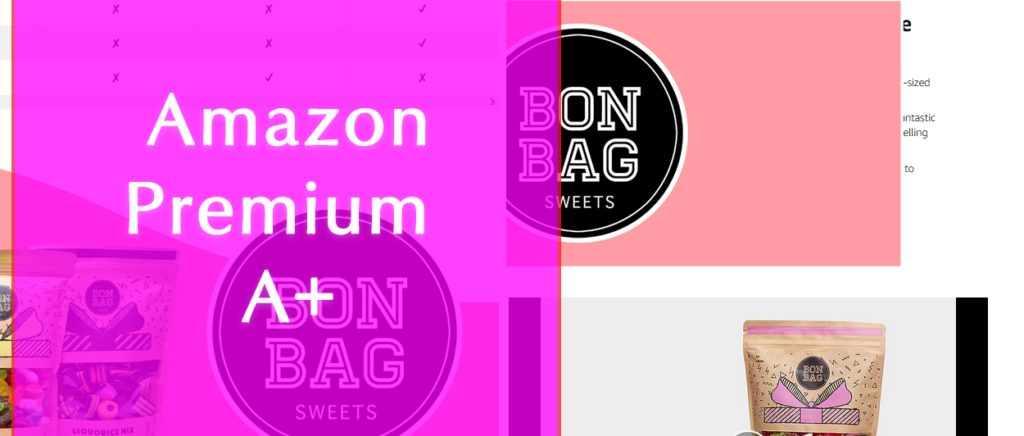 Almost anyone with a product to sell is on Amazon, it appears. Naturally, this has led to a tonne of competition, especially among brand sellers with similar products.
As a result, sellers must present their products in the best light possible, and in a way that helps to highlight why a potential buyer should choose their product over another seller's.
And this brings us to Amazon A+ Content and Amazon Premium A+ Content.
Knowing when to leverage either one can be a huge game-changer, although sellers often find themselves at crossroads when deciding between A+ Content vs. Premium A+ Content.
What is Amazon Premium A+ Content?
Premium A+ content is more or less an upgraded or "improved" version of A+ Content, offering additional customisation and design options. Apart from the standard features available with A+, it also offers the ability to create customised templates through an intuitive drag-and-drop interface where interactive elements can be added like tabs, image carousels, and accordions.
Premium A+ Content also gives you access to a fully dedicated team of designers and technical experts who will help you not only create the desired content but also troubleshoot it when the occasion calls for it.
What are the benefits of Premium A+ Content at a glance?
Perhaps the key benefit of Premium A+ content right from the outset is that it lets you create visually more compelling, engaging, and appealing product listings. When you have the ability to customise your layout and add interactive elements, you can come up with a more immersive shopping experience for your buyers – and this helps you stand apart from the competition.
Premium A+ Content is particularly useful if you want to create more customised product detail pages, or you simply don't have the design resources or expertise to create pages on your own.
Aren't A+ Content and Premium A+ Content essentially the same?
For some sellers, A+ Content suffices. However, others might find it better (and more competitive) to use Premium A+ Content. It all depends on your business needs and your current capabilities as an Amazon seller.
Either way, it's worth discussing some of the key differences to help you decide between Amazon A+ Content and Amazon Premium A+ Content:
Content customisation
As we briefly discussed at the start of the article, a major difference between A+ Content vs. Premium A+ Content is the customisation level. Where the basic A+ Content features allow you to add text and image modules to the product description pages, Premium A+ Content allows an even greater degree of flexibility when it comes to design and layout. For example, the drag-and-drop interface helps you create customised videos and add interactive elements like tabs, accordions, and image carousels.
Support
Another major difference you want to understand between A+ Content and Premium A+ Content is that both have varying degrees of support.
Premium A+ Content automatically unlocks access to a dedicated team of designers and technical experts who will help you create content and troubleshoot it too as and when needed. This can be a very valuable advantage if you've just gotten into A+ Content and are learning the ropes, so to speak – or you don't have the necessary design skills and/or resources to create customised product detail pages to your liking.
The basic A+ Content package doesn't offer any of this support, so you're expected to acquire the necessary skills on your own to design high-quality product pages – unless you ask an experienced Amazon SEO and marketing agency to do it for you, that is.
Cost
The cost of A+ Content is included with the cost of selling on Amazon. There's no additional fee as such.
With Premium A+ Content, however, sellers must bear an additional cost. How much this cost comes up to depends on the chosen plan and the total number of products enrolled in the Premium A+ Content programme, which comes with three plans:
Basic – This includes the Premium A+ Content Builder and your own team of design and technical experts, in addition to some basic customisation options. It's ideal for individual sellers or businesses who aren't initially selling as many products on Amazon as some of their fellow competitors.
Professional – The professional package includes all of the features above, along with more customisation options and support for a maximum of 500 products. It's a great option for businesses selling multiple products on the platform and who have a stringent branding strategy in place.
Enterprise – The most expensive plan includes all of the features of Basic and Professional, plus support for unlimited products and additional resources as well as support to help sellers get the most out of the plan.
Do I choose A+ Content or Premium A+ Content?
Despite knowing the advantages and limitations of each, many sellers tend to have a hard time deciding which one is right for them.
After all, it's a business decision that requires careful consideration, where you take a number factors into account, such as your budget, needs, goals, etc.
Well, let's set the record straight:
Some factors that come to mind include the kind of products you're selling, how stiff the competition is, and what your overall business goals are on Amazon.
Let's say you're selling a very unique, premium or high-end kind of product and want to stand out from the competition – yes, you guessed it: Premium A+ Content may be a very good investment right from the start.
However, if you're selling a commoditised or everyday kind of product where you want to keep costs as low as possible and maximise revenues from the sales you make, A+ Content might be better.
So, do you really need Premium A+ Content? How about we discuss some pros and cons to help you decide?
Premium A+ Content: Pros
Higher traffic and conversions – Yes! No seller can say "no" to these, right?
Premium A+ Content can potentially drive more traffic to your product pages, which means higher conversion rates (Amazon loves these so you'll likely pop up higher in search results too) and, ultimately, more sales.
Improved visual storytelling
Premium A+ Content lets you tell your brand story in a more visually compelling manner with the help of interactive features which can be utilised to attract and engage shoppers considering a purchase.
Higher credibility
Premium A+ Content can also help you establish better credibility, both with new and old customers, instilling greater confidence in your brand as well as product(s).
Potential for improved search ranking
When you implement Premium A+ Content into your marketing, you can potentially see improvements in your Amazon search engine results pages (SERPs), therefore, increasing your product's visibility to prospective customers.
Grab the viewer's attention almost immediately
The content features offered with Premium A+ Content can help you grab potential buyers' attention almost immediately, where they can quickly skim through the details and feel more compelled to buy it.
Keeps your product on top of search results
Premium A+ Content can potentially improve your organic ranking on Amazon, keeping it on top of search results pages, where the best features and functions are highlighted to quickly earn the trust of potential buyers.
Premium A+ Content: Cons
High-quality visual assets can be expensive
To fully benefit from Premium A+ Content, you need to have high-quality images and videos on your product page although this visual investment is a cost that some sellers may not want to bear initially. In addition, writing engaging product descriptions may require working with an Amazon marketing agency who can come up with professional copy to accompany the high-quality images and videos, otherwise you may not be able to utilise the full capabilities and potential rewards of Premium A+ Content.
Brand story publication
In order to leverage Premium A+ Content properly, the ASINs in your catalogue need to have a published brand story. This is a process which requires careful thought and can be very time-consuming. It can also be potentially expensive, especially if your product catalogue is large and varied.
Promotional period has limits
While Premium A+ Content does offer a limited-time "free" promotional period, it may not be long enough to truly reap the long-term benefits it can have on sales and traffic.
That covers some of the pros and cons of Premium A+ Content at a glance. So, just to quickly recap the differences we have discussed between Premium A+ Content vs. A+ Content, such as:
A+ Content Premium A+ Content
Access Accessible on Vendor Central Accessible through Seller
through invite only Central for a limited
promotional period
Brand Story No specific requirements All ASINsrequire a published
Requirements brand story
Image Size Standard Larger images on product detail
page
Interactive None Enhanced comparison charts,
Features interactive hover hotspot
modules, etc.
Visual Basic modules like comparison Full-width imagery, video,
Elements Charts & images carousel modules, etc.
Q&A Standard Q&A module Premium Q&A module with
Module additional functionalities
Conclusion
As more and more people switch to online buying, utilising the complete visual storytelling capabilities offered with Premium A+ Content is going to become very important for sellers.
Chris and his team are always available to advise on the best ways to leverage Premium A+ Content in order to reap the full benefits.