8 Simple Tips to Boost and Increase Sales on Amazon
If you're going through a period of less-than-thrilling sales and wondering how to increase sales on Amazon, sit back and relax, as we share some of our top tips on how to sell to Amazon like a pro: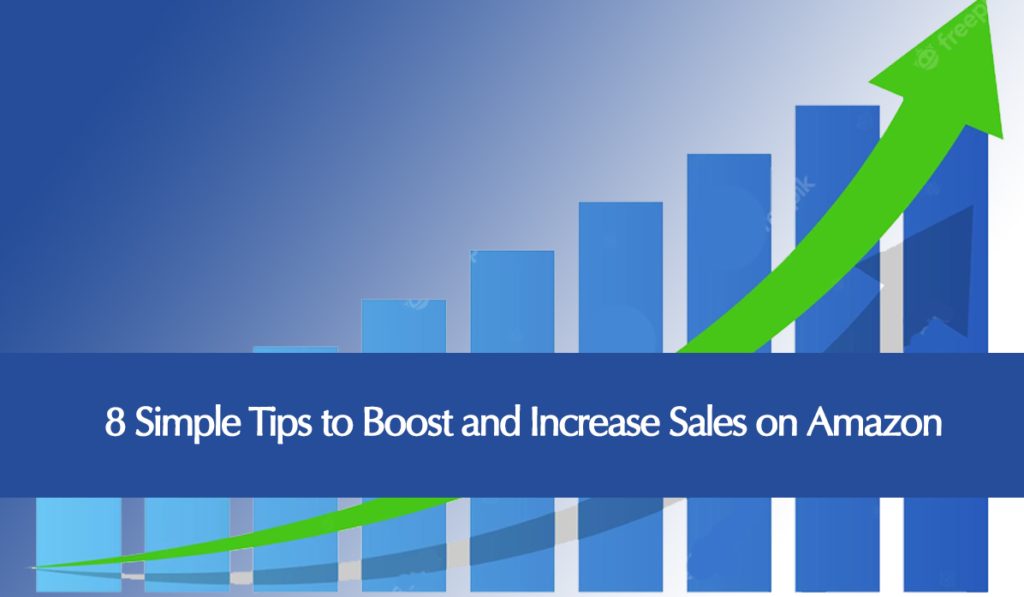 1. Are your listings optimised for sales? Optimise them now!
Truth be told: most Amazon listings are rather poorly written. Basic grammar mistakes, abysmal copywriting, stuffed with keywords, etc. – they're just not written from the reader's perspective, i.e. copy that is written to convince them to buy.
To optimise your listings, check for the following:
Grammar errors
Spelling mistakes
Too little or too much use of keywords
Sentences that sound 'spammy', don't flow smoothly, or simply don't make sense
Also, big walls of text are never a hit with readers, so make sure your listings are very easy to scan ad read – so easy that buyers are able to just scan a few lines, identify the benefits and understand exactly why they should be buying it!
Keywords are very important when it comes to converting visitors into buyers – in fact, with all other factors being equal, if you don't do your Amazon search terms right, then you're either going to rank very low in the search results page or not rank at all. An Amazon marketing agency can help you nail the Amazon keyword research aspect, and so much more.
2. Also optimise your listings for mobile
The vast majority of online buyers are mobile users. If you're not taking this into account then you're potentially missing out on a huge opportunity to increase sales on Amazon.
Listings which are optimised for desktop must be optimised for mobile as well – the Amazon mobile app exists for a good reason and you need to make sure that the features, benefits, use cases, and underlying value of your product shows seamlessly.
Not sure where to begin optimising for mobile users? Work with an Amazon marketing agency to increase sales on mobile!
3. Don't slack it with the Amazon keyword research
Sellers are letting lots of opportunities slip right past them by not finding the right Amazon keywords for their listings. Even if you've researched hundreds of keywords and managed to rank for them as well, there's still a lot more you need to do.
Keyword variations, for example, are very important to rank higher. Let's say the term is "yoga mat" – try to come up with as many variations as possible, like "yoga mat for men", "yoga mat non slip", and so on.
These long-tail keywords are extremely valuable – despite their lower search volume compared to short-tail keywords, they drive a lot of high-intent traffic to your listing – you can never get enough of that!
As soon as you find the potential opportunities that you're not yet ranking for, integrate these into your listings – just make sure your copy is still sales-focused and not keyword-focused only.
Keyword tools, both paid and free, are good for seeking out relevant long-tail keyword opportunities, although an Amazon marketing agency with a proven track record can help you rank for the perfect keywords (short and long tail) to increase sales.
4. Pricing: Such a huge yet overlooked factor
With the sheer number of competitors offering all kinds of 'Amazon packages' and special offers in their listings, pricing is the one thing that you can often beat them on.
Just think about it from a potential buyer's perspective: everyone wants the best quality and the most attractive price, if not the cheapest. Every time someone stacks up your product against another, price is the one factor that can win them over.
This especially rings true if you're up against multiple sellers, all on the same listing. With so many people selling more or less the exact same product nearly 99% of the time or more, buyers will always be compelled to choose the lowest-priced one. So, the chances of convincing someone to buy from you instead is pretty low, especially if you try to convince them otherwise based on seller feedback alone, or a special offer, for example.
Automated repricing tools are being used by some sellers to edge ahead of the competition but we wouldn't wholeheartedly recommend those, as they will often not take every single factor into account. Furthermore, pricing research done by an actual person who has experience marketing on Amazon for decades can provide a far better pricing strategy than an online tool.
5. Don't neglect Amazon's TOS
Every time we hear someone ask "how to increase sales on Amazon" or "how to sell to Amazon", one of the first things we ask them is: Are you following Amazon's rules? Are you following all their Terms of Service?
A common obstacle to seeing the desired increase in sales is breaking Amazon's rules. You can't sell diddly-squat if your account is suspended or shut down altogether, can you?
Amazon wants their sellers to set up their listings a certain way – the more quality-driven those listings are, the more buyer trust you will gain and the more you will be able to increase sales. It's a win-win for both you and Amazon.
6. Create an Amazon Lighting Deal
The Amazon Lighting Deals page is among the most popular pages on the e-commerce platform – allowing sellers to create micro windows for buyers to find absolute "steals" on the products they want.
Benefits, you ask?
How's this, for starters:
Boost brand awareness
Reduce inventory relatively quickly
More traffic coming to your listings
Increase sales
Plus, if you're trying hard getting a new product to sell, an Amazon Lighting Deal can be incorporated into your SEO and launch strategy, thus, improving both organic ranking and sales.
To create an Amazon Lighting Deal:
Choose an eligible item
Select the Lighting Deal's date range according to the options you see
Offer a discount or 'deal price per unit & quantity'
Review details
Click 'Submit Deal'
Donwsides are really all about what margin you have to play with. Deals not only require a minimum 15% discount but usually come with a fee which can be anywhere from $50 – $200 depending on the time and sales are not guaranteed
7. If you're not using Fulfilled by Amazon (FBA), start using it now
FBA, Amazon's own fulfilment service, isn't only a great way to make the entire order fulfilment process easier and more convenient – but also a fantastic way to see an increase in sales.
It's interesting how people see something for £10 along with a "+ £1.89 for shipping", and refuse to buy it. Yet, if they see something priced at £11.89 but with FREE shipping, they'll buy it in a heartbeat!
You can thank Amazon Prime for FBA helping to increase sales because when shoppers see the Amazon Prime badge on a listing, they show little hesitation to make a purchase. Aren't you more likely to buy a washing machine that is similarly priced to others in the showroom but has a badge that says "10 years manufacturer's warranty"?
Every time a shopper sees Amazon Prime on your product description page, it almost completely removes the doubt that's often involved in the buying journey. However, the main benefit of Amazon Prime is, perhaps, fast and free shipping. Whenever you buy something online, the first thing you want to do before making the purchase is ensure that it can be shipped to you quickly, free of cost, isn't it?
8. On-Amazon and off-Amazon promotions
Product promotions on Amazon are a simple yet effective way to see an increase in sales. From Amazon Packages to Amazon Coupons and 7-Day deals (we already talked about Amazon Lightning Deals), these promotions can help you increase visibility and gain more conversions from people who find you in Amazon keyword searches.
Bear in mind though that Amazon Lightning Deals are competitive compared to the other promotions and will cost some money to run – once executed correctly, however, they can help you boost sales velocity and create enough momentum for your listings to rank higher, even after the deal is over.
Now, on to off-Amazon promotions. One of the best, undisputed ways to increase sales now is to run promotions off Amazon. Also known as external traffic, off-Amazon promotions offer an opportunity to find new audiences who typically aren't on Amazon, trying to search for the ideal product (yet).
Channels like email marketing, blogs, TikTok, Google, Facebook, social media influencers, etc. allow you to drive sales by offering a single-use exclusive promo code to prospective buyers. Not sure how to leverage external traffic to increase sales?
Chris and his team are always available to help you build the perfect landing page that is ready to convert visitors into buyers.
From finding the perfect Amazon search terms and Amazon keyword research, to Amazon Lighting Deals, promotional Amazon packages and dozens of valuable insights on how to increase sales on Amazon – we offer a world of knowledge and knowhow to help you get sales by the numbers. Get started with a free initial consultation now.
It doesn't even matter if you're a novice or advanced seller – our track record demonstrates that we have helped sellers of all levels, from those just breaking into the Amazon marketplace to those who have been selling for years, all getting superb results from our bespoke solutions.