FBA vs. FBM – Is FBM better than FBA?
Should I Sell on Amazon FBA or FBM?
FBA vs. FBM – Is FBM better than FBA?
"What's Amazon FBA" and "can you tell me more about Amazon FBM" are two of the most common questions we get here.
Okay, so the short answer is: if your competitors are selling on FBA, then you need to be able to compete – that means you need to use FBA too.
However, beneath the surface, it isn't as straightforward or simple, and so, we really should consider both sides of the coin.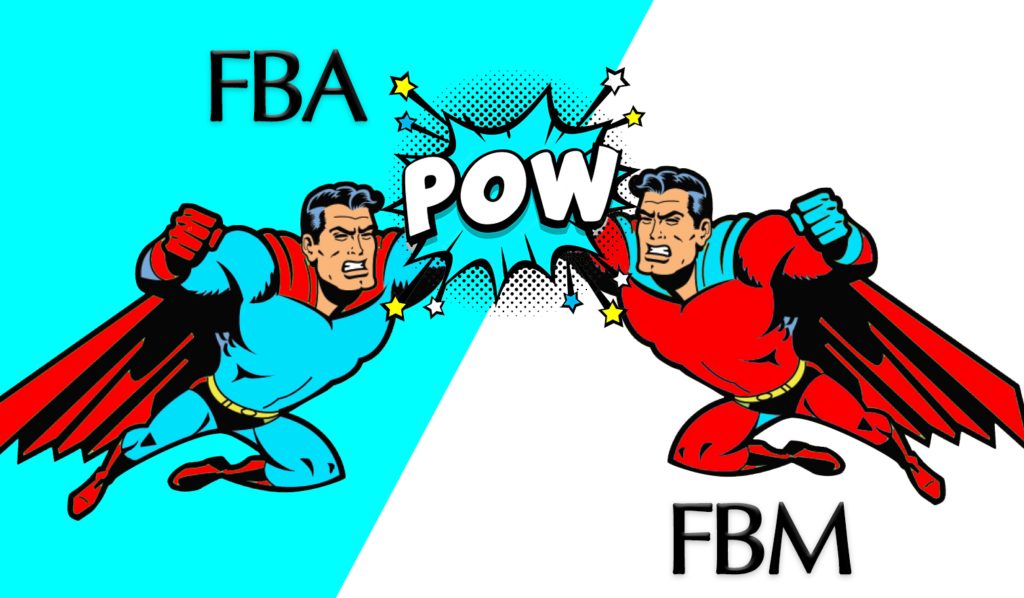 What's Amazon FBA and Amazon FBM – When to use each one?
Questions like "is FBM better than FBA" or "how to do Amazon FBA instead of FBM" often keep sellers up at night. The best, most honest answer to these is to first look at your individual situation or seller circumstances.
Yes, we did say that you should be on FBA if your sellers are using it but does that mean you completely neglect your own situation in doing so? Certainly not. Does it also mean that Amazon FBM is not that great and that there are more Amazon FBA opportunities for selling? Nope, not quite.
Therefore, we're going to kick off the whole "FBA vs. FBM" debate with an honest and impartial discussion, starting with:
Amazon Seller FBA – What is it?
FBA is an abbreviation for Fulfilled by Amazon, so basically, you're selling something but Amazon takes it upon themselves to ship it, including packaging, customer service, storage, returns – you name it!
All you have to do is send your product in bulk to the nearest Amazon fulfilment centre so that their dedicated (and highly skilled) staff can pick, pack, and send off the items after they have been purchased from your listings.
What is Amazon FBM?
FBM stands for Fulfilled by Merchant. It's your responsibility to list your products on Amazon and also handle storage and other aspects of order fulfilment, such as picking, packing, shipping, returns, customer service, etc. So basically, if you're selling it, you're shipping it too.
Where FBA sees your inventory being stored in an Amazon warehouse and then being shipped off to your customer, FBM involves using your own warehouse or storage facility, and using a courier like DHL, UPS, or FedEx, for example, to ship the items to your customer.
Fulfilment by Amazon vs. Fulfilment by Merchant – How to evaluate?
Here are a few questions you can ask yourself from the outset to determine "is FBM better than FBA" or the other way around:
Is there a way to ship at a lower cost if I ship myself?
If I increase shipping volume discounts, will that translate into more profit?
How much will it cost per unit to ship units to Amazon's fulfilment centre? Is it cheaper to store items at my private warehouse instead? More importantly, how popular is the item to justify sending it to Amazon's fulfilment centre for packing and shipping? Will the sales significantly outstrip storage costs?
Does Amazon charge any extra fee for monthly or long-term storage?
Is it cheaper to use FBM rather than pay this extra fee?
Will the increased costs of storage and shipping with FBM compete with FBA costs in order to offset the higher costs?
With the above questions in mind, it can be tricky to understand Amazon's fulfilment fees. For instance, Amazon charges according to either the actual weight or dimensional weight, whichever one is greater – so it's important for sellers to know the size tier under which the respective product falls before they send any units to FBA.
Plus, Amazon is always revising its pricing structure for FBA, forcing sellers to stay on their toes with these announcements. An Amazon marketing agency with a proven track record can help you stay up to date on any such changes.
Now that we've covered some of the Amazon FBA opportunities available to sellers or how Amazon FBM is different, let's delve deeper into FBA vs. FBM by looking at the individual benefits of each:
Benefits of Amazon Seller FBA
Seamless and effortless shipping – As discussed earlier, Amazon takes care of all the order fulfilment for you. They help you track your listings, ensure that you're always stocked, and oversee the entire fulfilment process from start to finish.
Get to Prime customers – Enrolling into Amazon Seller FBA means you can access Amazon Prime customers and that's anything but good for business!
Fast delivery – FBA products automatically get the Prime badge which means they become eligible for free shipping with Prime.
Customer service management – Amazon offers 24/7 customer service to FBA sellers as the dedicated platform takes care of everything related to customer service.
Discounted shipping rates – Shipping through the FBA platform means spending less on shipping costs, especially since Amazon utilises a variety of shipping carriers in addition to its own dedicated network.
Extra warehouse space – Amazon FBA sellers get access to almost an unlimited amount of storage space and it's not surprising at all because Amazon's warehouses are strategically located all across the globe, and are better planned that the average FBM storage facility or warehouse.
Buy Box – With Amazon Seller FBA, you get access to the 'Buy Box', the white box on the right-hand side of your product page. This makes it easier for buyers to add an item to their shopping cart and could potentially mean much higher sales. So, with FBA you stand a much better chance to win the Buy Box.
Returns management – Amazon FBA handles everything related to refunds and returns as part of the order fulfilment process, although this may potentially create some issues down the line as you don't get a chance to communicate directly with customers.
Benefits of Amazon FBM
Better control – With Amazon FBM, you have more control over your inventory, including the ability to access it anytime.
Reduced costs – Amazon's fees are based on the item's size only, making large items with relatively small margins a much better fit for FBM than FBA.
Reduced costs outside Amazon too – Enjoy greater discounts on shipping and supplies through non-Amazon sales channels.
Opportunity for Amazon Prime badge – Seller-Fulfilled Prime allows you to access FBA benefits without actually enrolling in it, thus, helping to avoid the fulfilment and storage fees associated with FBA. Plus, if you have a Professional Selling account, you can display the Amazon Prime badge on all orders fulfilled through Amazon's warehouse.
All in all, Amazon FBM sellers enjoy greater control over their shipping rates – since you're buying and shipping through FedEx or UPS directly, the increased volumes and discounts can potentially mean higher profit margins for you. You can even utilise ground or home delivery services to get packages out to your customers within two days, although customers living further out will require express shipping.
It's also worth noting that there may be some downsides to both FBA and FBM which you may want to consider:
FBA vs. FBM: Downsides to consider
Cons of FBA
No control over inventory – Being enrolled in FBA means you can't visit the warehouse to inspect your products. Amazon will likely not allow you to visit their storage facilities for inspection, so you have to blindly trust them to not break or mishandle your products.
If you prefer a very hand-on approach to your own inventory and order fulfilment process, then FBA is not for you.
Potentially higher costs – This may be a pros or con, largely depending on what type of items you're selling and your business's competence in terms of fulfilment.
For example, light, small and fast-selling items tend to be the best, most cost-effective ones for FBA as opposed to bulky, heavy, and slow-moving items. Plus, storage fees vary from season to season, typically rising between October and December.
Additionally, on the one hand, Amazon is highly efficient at its various warehousing and order fulfilment processes; on the other, there are a number of merchants who can do this nearly just as well, if not better.
Merchants with a very high level of expertise, experience, and knowledge in logistics, for example, may find it cheaper to use non-Amazon fulfilment. And, if you happen to be such a merchant or work with one as opposed to the regular Amazon FBA channel, the benefits of actually using FBA ought to be weighed against the extra costs that come with FBA.
If you have an Amazon Seller Central account, you can use their Revenue Calculator to compare FBA costs against your own fulfilment costs. We also provide a fully detailed accurate margin calculator to our clients to make sure their margins and profits are as accurate as possible.
Packaging & labelling requirements – Amazon has some very strict inventory packaging and labelling requirements before they even agree to accept any items into their storage facilities. So, unless you prepare your inventory fully to comply with these requirements, you run the risk of having your inbound shipment rejected by Amazon. This means spending extra time and money on retrieving and preparing your inventory all over again.
There's actually an entire industry that's dedicated to FBA inspection and preparation, a middleman of sorts between your supplier and Amazon. So, you need to factor in the time and cost of preparing your inventory for FBA.
Cons of FBM
You are solely responsible for customer service & returns – With Amazon FBM, you are responsible for handling everything related to customer services and returns. This can be very time-consuming, although depending on how you look at it, it may not necessarily be a con.
In fact, it's a great opportunity to better understand your customers' needs and pain points, leading to not only valuable insights but also ideas to improve your business and service delivery.
Not enough opportunity to win the Buy Box – With each factor being equal, FBA will hands down beat FBM in terms of Buy Box offers. Even though FBM sellers may improve their chances of winning the Buy Box by offering Seller Fulfilled Prime (SPF) to their customers, FBA sellers will still have an edge over SPF when we talk about winning the Buy Box.
Lack of SEO perks – Where FBA offers a small boost in Amazon search results, FBM offers none. However, FBA isn't some 'magic pill' that automatically makes your own SEO efforts and keyword research useless, but it does help your overall SEO efforts. The same can't be said for FBM.
Closing thoughts: Is FBM better than FBA or the other way around?
Right – so we've discussed the pros and cons of each and gave some examples of when it might make sense to choose one over the other, and especially how important it is to take your own business circumstances into account when stacking up both fulfilment methods.
At the start of the article, we also stated that if your competitors are using FBA, then you should be using it too. There are, however, exceptions in some rare cases, and which one you end up choosing will be decided by both your current Amazon selling demands and future ones.
Chris and his team are always available to consult, and will help you choose a fulfilment method that is profitable and cost-effective, both in the short and long run.