What Is Amazon Multi Channel Fulfilment Europe (MCF)
In June 2021 alone, Amazon saw more than 2 billion users, so it's understandable how almost any ambitious seller would want to get in on the action, gaining global exposure for their brand and accessing customers from all kinds of demographics.
The best part is, if you're interested in selling to a European audience, you can do it all from your UK smartphone or computer!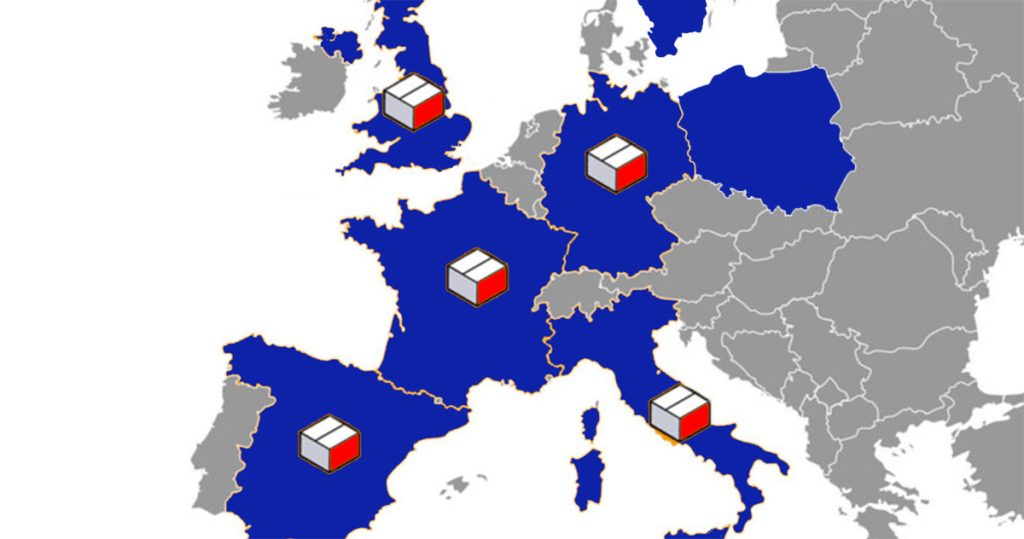 Here's what you need to do to sell and ship into the EU
Naturally, once you start sending your products from the UK to the EU, you will need to consider additional paperwork and costs. Therefore, we'd highly recommend using a freight forwarder or customs broker as their knowhow and expertise can be extremely valuable.
So, when exporting products to Europe, you're going to need:
The EORI number.
The country of origin of the product.
Power of Attorney – this can be a designated individual or organisation willing to take responsibility for your items safely getting to the intended audience.
HS (Harmonised System) codes which will determine the duty charges and import VAT per product.
Customers clearance documentation (working with a customs brokers will help).
New Product and Labelling regulations. These should be highly specific to your product category, so you need to do a little research into what you want to export to the EU.
There are namely three ways to send Amazon shipments from the UK to the EU:
FBA – Fulfilled by Amazon, as you may be aware, requires you to pack and send items to Amazon's fulfilment centre. They will then ship it out to customers in the EU who order your products from the fulfilment centre.
MFN – Merchant fulfilled network, as the name implies, requires you to pack and ship items directly to your customer, as there is no fulfilment centre involved; your customers purchase directly from you.
EFN – European Fulfilment Network by Amazon reopened in March 2022 which has made it a lot easier for Amazon FBA sellers to send their products to EU audiences. We have discussed this method in more detail towards the end of the article, as it has some very positive implications on selling in EU countries, such as no VAT registration.
Here's a quick comparison for your benefit and knowledge:
Why send through FBA?
This is most likely the simplest way to get that sought after Prime badge on your products. This can be highly beneficial since Prime products end up higher in search rankings. You can learn more about FBA here
FBA also lets you ship items to multiple Amazon fulfilment centres across the EU, so you can decide which EU countries you want to sell your product(s) in.
If your supplier or manufacturer is located in a country other than any of the EU ones, you can direct them straight to an any of the Amazon fulfilment centres in that country, saving you and them plenty of time as well as money.
Germany is most likely the best option to send items or stock via FBA; it houses the largest eCommerce market in the EU, accounting for a good 20% of EU eCommerce sales.
Why send through MFN?
MFN is certainly a less 'attractive' option than FBA, as you must pay additional fees to have your product shipped to customers.
Since January 1, 2021, all sellers are now required to pay taxes and duties before sending items to their customers if the product is over €22.
Therefore, any items you list on Amazon EU must include taxes and duties within the price.
Many carriers let you pay import duties before customers receive their respective products, so you can discuss whether they are offering this as part of their delivery services.
Why send through EFN?
Amazon FBA account holders have the luxury of storing inventory in Amazon's designated fulfilment centres, which means you can fulfil orders across multiple EU marketplaces through a single inventory pool, rather than have a separate inventory for each location.
Where it gets even better is when EFN comes into the picture, taking care of all our Amazon UK-EU fulfilment needs. This means you gain valuable access to top EU marketplaces like Germany, France, Spain and Italy without ever having to register EU VAT.
The great thing about EFN is that when you use its network to fulfil UK-EU orders across the customs border, you are effectively authorising Amazon (including its affiliates) to export goods and sign off commercial invoices for you.
These invoices are very important as they itemise the products you want to send, as well as authorise brokers and third parties to execute the necessary paperwork required for export.
There are many other benefits of using EFN as well, which we will be discussing shortly.
After all items are in Amazon FBA, is there anything else I must do?
As a matter of fact, there is:
VAT
Speaking to an accountant/financial advisor will help as they will offer tailored advice according to your business and product.
You can also use Amazon's VAT services to have your registrations handled through a central source.
The VAT Services section in your account allows you to register VAT for all FBA EU countries, where you may be able to avail discounts and special offers for registering with all six EU countries.
Tracking and inventory management
Amazon keeps tabs on each product using their IPI score, which indicates the storage fees you must pay. Since your inventory in the UK and EU are independent from each other, you need to have individual IPI scores for each.
We strongly recommend using the Daily Inventory Report so that you can monitor the stock in your EU FBAs. Your bill is going to be based on whether you are overstocking or understocking your products. You should look into how this gets calculated as you don't want it to impact your margins too much.
Should any items ever need to be returned from an EU FBA, you can only have them returned to an EU postal address. However, if this is not possible, you can pay to have the items disposed of on your behalf.
Customer returns
Since you're planning to sell in the EU, we would recommend 'returnless' refunds through FBA or MFN, however, you must consider the costs of the return to determine if this option is right for your business.
You also need to have a default return address in place when using Amazon FBA. If you don't, Amazon will automatically issue a refund to your customer – the return address needs to be a local address and not one of the fulfilment centres.
For customers returning products to you in the UK, you must pay for the returns label.
Intellectual property
As a brand owner with a registered trademark, you can apply for Amazon Brand Registry, which unlocks a number of useful tools to improve conversion rates, in addition to some very useful advertising and reporting services.
Having an EU Trademark prior to January 1, 2021 means that you are automatically entitled to a UK Trademark. However, having your EU Trademark registered after this date will not get you a UK Trademark, so your IP may not be covered through Brand Registry.
Product listings
Product listings need to be 100% spot on in the UK before anywhere else! Amazon will take your UK listing content and move it to the EU site through the building international listings tool (BIL). Learn more about Product listings here
Keep in mind that this will merely update the prices based on current Euro currency rates and not make your listings live.
Translation
It's best not to use the machine translations found in the BIL tool, so you need to use clear and native translations yourself. You can always use freelance sites to do this or use a service provider network through Amazon. After getting the translation, edit your listing manually and add the new content.
Market research
Thoroughly research what other sellers in the EU are doing, as this will guide your own strategies. For instance, if one of your competitors is on Prime, you must also sell your products via FBA.
Research into your competitors on the local site and not the UK site, so you can see things from the perspective of an EU customer.
What are the benefits of using EFN?
Amazon will take care of all fulfilment. You won't need to send any stock to the EU because an Amazon FBA account coupled with EFN automatically means Amazon will fulfil orders and take care of the accompanying paperwork.
You also do not need to register VAT as mentioned earlier – there's no need to do so in EU countries like Germany, France, Italy and Spain.
Import duties and charges are all a part of the package. As and when required, Amazon will collect an estimated import fees from your customers at checkout, simplifying the entire process for both you and your customers.
EFN also allows you to test the market as it is an easy, low-cost and low-risk way of testing whether the products you're selling have any real potential in the EU marketplace.
Chris and his team would love to share their insights with you on the full suite of EFN benefits as well as how to effectively sell in Europe. We're only a phone call away: (+44) 01743 816191.