How to create an Amazon Storefront
With soaring energy prices and the global economy not showing too many signs of improvement, running a brick-and-mortar store has proven to become a burden for most small businesses.
This is why many businesses, including both small-to-medium ones and even larger ones, are launching their own online storefronts. Setting up an Amazon store, for example, means you can cut down on costs while still enjoying a steady revenue stream.
Amazon is currently the biggest online marketplace in the world – in the UK alone, it accounts for almost 90% of all online purchases, so it's understandably a very attractive proposition for retailers and business owners alike.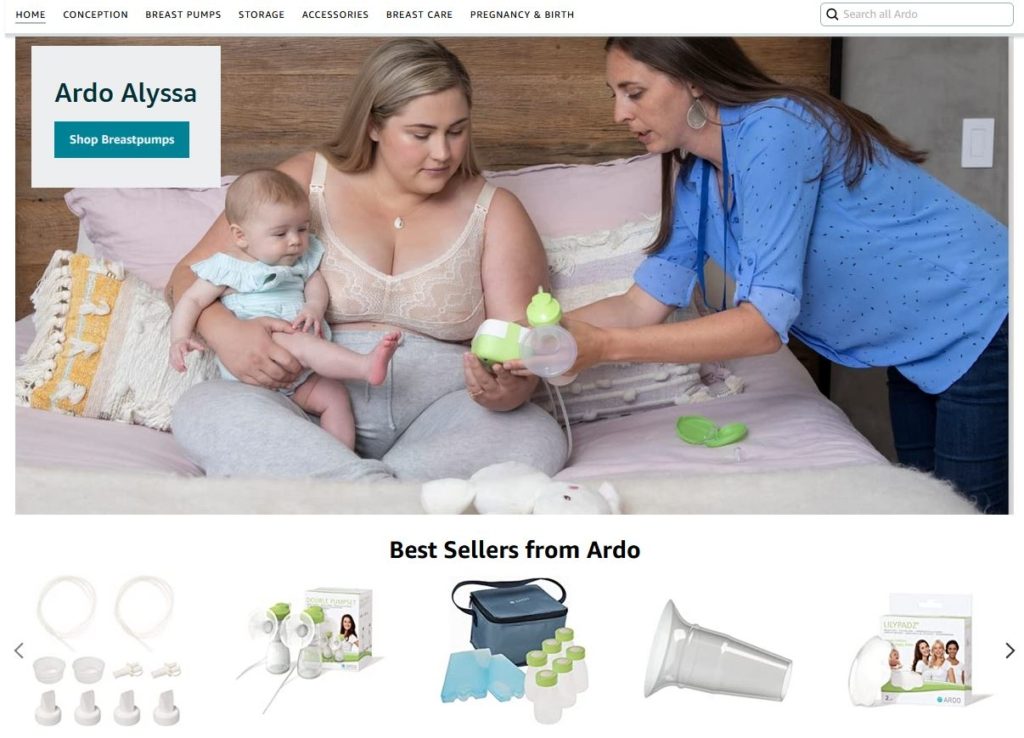 What is an Amazon storefront in the UK?
An Amazon storefront or Amazon 'store front' is a free-to-use self-service tool which you can use to create your own dedicated online store on Amazon. Creating a store for business on Amazon is a very practical and cost-effective way to highlight your key offerings and build better brand awareness through a very straightforward and easy-to-navigate user interface.
Until a few years back, setting up an Amazon store was something only Amazon Vendors could do. But now, any third-party seller can participate in Amazon's Brand Registry in order to create an Amazon storefront.
Additionally, Amazon store set up is very easy as drag-and-drop tiles are available to help you customise your own Amazon storefront through product images, videos and detailed descriptions. It's all very well laid out and if you want to know how to open an Amazon store, just follow these steps.
Setting up an Amazon store – Step by step guide
Before we begin the Amazon store set up step-by-step guide, it's important to create completely fresh images for your Amazon store front. We recommend not using the same images as your product listing page because this is a chance to attract new customers and give them as much visual information as possible about the products on your Amazon storefront.
However, before you create any product images or videos, it's always good to review the creative guidelines for Amazon storefronts. If you're not too confident about your abilities as a photographer, that's nothing to worry about. You can work with an Amazon marketing agency to create high-quality product photos that are perfect for your Amazon storefront, UK.
Now, let's get your Amazon store set up, shall we?
Step #1
Go to your Seller Central account and find the 'Stores' tab on the left. Click on 'Manage Stores'.
Step #2
Now click on 'Create Store' and select your brand.
Step #3
This will take you to the Amazon store front builder. For now, just add your brand name as you want it displayed and the brand logo. Click 'Next'.
Step #4
Now it's time to create a Home Page for our Amazon storefront – this is what your audience will see the moment they visit your online store for business on Amazon.
You'll get a bunch of templates to choose from, which is a great way to tell your brand's story, perhaps showcase a best-seller, or display all your offerings in a grid pattern. You can even start from a blank canvas if you want to completely customise it to your tastes. It's all very well-laid out and self-explanatory, so you don't need to go around hunting for 'how to add items to Amazon storefront' walkthroughs online, for instance
You must also enter a meta description for your Amazon storefront (UK) – the two-liner descriptive text that pop up on Google's and Amazon's own search engine results pages when someone looks for you. It's important to include at least one primary keyword as it will help your store rank well on both Google and Amazon. Make sure to include a catchy meta title for the meta description, which should also contain your main keyword. The current meta title length is up to 60 characters while the meta description length is limited to 160 characters. So, make sure you don't go beyond that or Google will simply truncate it.
Step #5
Now we're going to start building our Amazon storefront!
This is where you add images, page sections, and thumbnails for all your product listings.
It's always a good idea to take your time here so that you can get properly acquainted with each section.
So, the first thing we want to focus on is:
Adding new pages to each subcategory
You'll see that the Home Page is already there by default. So, we're going to build subcategory pages which your customers can visit from the home page.
Look to the left and you'll find 'Add page'.
Enter a nice title for the page, a subcategory description, and then pick a template. For example, let's say we want to create a subcategory page for the different generations of Xbox or PlayStation consoles you're selling. So, to create such a page, we will choose the 'Product Grid' template, which allows us to easily display all of the different generation game consoles at once.
As before, choose a nice page navigation title, followed by a keyword-optimised page meta description.
Once you click on 'Create page', your new subpage will pop up in your Amazon storefront's home page as a new tab.
Let's say you want to create another subcategory titled "game controllers"; just follow the above steps and you'll see that the multiple subcategory tabs will start populating your home page.
If you need to categorise products within a subcategory (such as game consoles or game controllers), then you can create a dropdown box from that subpage's tab. For instance, game controllers are typically available in different colours or customised skins, so you can create a dropdown box to filter them according to colour/design. To do this, click on the subcategory tab you want to customise, then click on 'Add page'. Then, start giving them names one by one – "White controllers"; "Black controllers"; "Customised game skin controllers" – and so on.
If you want to get rid of any unwanted subcategory pages, find the three vertical dots next to that page's name – it's on the left-hand menu, so click the three dots and then 'delete page'.
Adding a header
The header is very important. It gives your brand authority with a unique logo and branded image, so that everyone knows that they have arrived at the right Amazon storefront in the UK. The banner image can be added through the 'header' section of your Amazon store front.
Again, it's a good idea to reference Amazon's creative guidelines so that you enter the correct dimensions for your banner. Amazon's upload widget will also mention the correct banner image size.
Uploading your banner image is really easy. Just like on the header section of your Amazon storefront – you'll find this at the top of your home page. Once you upload it, take a look at how it displays. That's exactly how people will see it when they visit your online store.
Customising your storefront
Now we can add new sections to our home page and subpages.
These sections can be used to display video, text, listing previews, or product images – anything to show visitors what they can find at your store. Click on any blank tile on your home page to add a new section, and then choose a tile type.
You can even link image tiles with specific product listings. If someone clicks on that image, they will be taken straight to that product page.
If you prefer to add a split tile section, just click on 'Add new section', and then click 'split section'. You can then choose between multiple split-section layouts.
While setting up your Amazon store, you can preview how it looks on desktop/mobile. In any case, experiment with the variety of tile options to see which one works best for your brand. You can easily reposition the sections by dragging and dropping them in the desired spot.
Amazon also displays the tile choices you've used so that you don't lose track of what you've created – in case you ever want to change up the order of things or add/delete tiles.
Like we briefly discussed earlier, you can feature multiple products in your lineup using the 'Gallery' or 'Product Grid' tile. By showcasing your entire product line in your Amazon storefront, you can highlight some of your newer entries too – where your customers can click on a thumbnail to view the complete product listing, and add that product to cart from your subcategory page.
Step #6
We've just completed our Amazon store set up, congratulations!
There's on last thing left to do, however: click on 'Submit for publishing' and we're all set.
Amazon will review your storefront in the next 24 hours, and as soon as it is approved, people will be able to buy from you on Amazon.
All in all, setting up an Amazon store is pretty straightforward. There's no need to check online walkthroughs on 'how to add items to amazon storefront' or 'how to create an amazon storefront' – everything you need is right here in one easy-to-follow guide.
If you want to get the most out of your Amazon storefront, including top notch search rankings, Chris and his team would be happy to share a tonne of insights with you.