How to change and fix a brand name on Amazon in 2023
One of the biggest issues facing brand owners on Amazon now is changing or updating or indeed, fixing brand names that have been created incorrectly by 3rd party sellers inside the catalogue.
First of all we have to address that this is not the brand approval error "5665" – Any single amazon seller can create a product listing and this error code is for any new product listing. This error we are discussing is to do with brand owners struggling to update and fix their own brand owned products.
This article is for brand owners connected to Amazons brand registry, for more on this please click here.
Usually an innocent mistake where the brand name is slightly different to the registered trademark that Amazon accepts in its brand registry platform.
For an overview see our Youtube video
For example, the official trademark name is "Mikes Toys" a third party may have created a listing and used the brand name "Mikes Toy", Amazon haver accepted this through its brand approval process, but just missing one simple letter means Amazon treats this brand name different to the correct one as in Amazons catalogue "Mike Toys" and "Mikes Toy" are different brand names.
It may also be that the brand name shows as "generic"
For our clients that sell to wholesalers and retailers this is a huge issue, Amazon have started to get stricter using the brand approval process in 2018 but incorrect brand names still go through.
Sometimes a mistyping or adding additional words such as "Greenleaf" and "Greenleaf gifts" produce a huge issue for brand owners if indeed their trademark and brand registry ownership is under "Greenleaf".


You will also notice that the brand name is locked when you try and edit the product listing page.
What to do if someone changed my brand name
Its always best to make sure your ASINS are correctly connected via brand registry and correctly connected within seller central. To do this make sure each of your ASINS is linked using the dropdown box when you edit your product detail page, this will stop brand name being "hijacked".
Wrong brand name for your listings
What's becoming more frustrating for brand owners is Amazon seller support refusing to update and fix these listings where the brand name is incorrect.
This is down to typically a misunderstanding by Amazon support teams to understand IP issues and the brand registry guidelines.
Seller support will reference many different reasons:
The contribution is owned by another brand owner
Amazon will quote Amazon brand policy from its own terms
Ask you to update the contributions from flat file
You are not the brand owner.
Agreed to make changes and then not followed out the changes.
Whilst Seller supports responses can be confusing and irritating, its important to stay cool and develop your support ticket
Gather evidence to change your brand name and create a support case
The trick to updating your brand name is within gaining evidence of your ownership and making sure that there is a clear breach of the brand on Amazon.
Remember to:
Be a brand registry owner of the EXACT brand name you wish to change too, or a secondary or registered agent or rights owner.
Use the correct GS1 certification associated to the brand and take screenshots showing your brand or the parent company
Show a clear (non-rendered) image of the product featuring its brand name, logo and GS1 barcode within the same image.
Produce a screenshot of your USPTO, UKIPO or EUIPO trademark clearly showing your trademark and ownership, remember it MUST be in the same location. You will not be able to fix a trademark on Amazon US with a UK or EU trademark.
Reference screenshots INSIDE the Amazon catalogue if you can reference an ASIN with the same GS1 prefix and brand name.
Contribution is owned by another brand owner
A regular problem we see is that the brand name has been assigned to another brand on Amazon and inadvertently this has been acquired by a similar brand name or indeed a trademark with the same name in a different "class".
This is a little more complicated but still can be fixed, follow the evidence based method below showing quite clearly the ownership belongs to your trademark and reference the GS1 barcode – its highly likely the GTIN number is associated to your brand and not the other trademark claimant, you will need to prove this clearly with Amazon.
Overcoming the Amazon brand policy issue
Amazon brand policy dictates that a brand name attribute can be updated if its contacts a typo, capitalization, or legal abbreviation issue, they also request to send in evidence to support your case.
However, Amazon policy also states that brand name changes outside of minor corrections are considered re-brand which cannot be supported. However, we would argue that it isn't a change "request" but a "correction" which benefits the customer, so they fully understand the brands catalogue.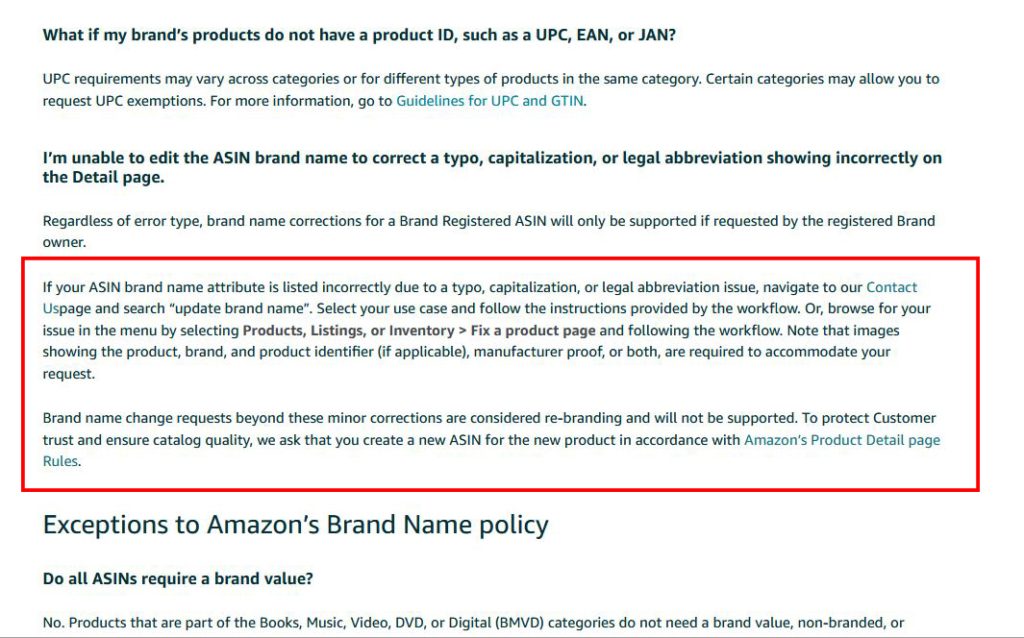 The policy is vague by what its meaning for "minor corrections" so push for this and do not let Amazon reference brand policy rules if an ASIN is clearly a typo of your brand name.
What to do when brand registry support say no
Its unlikely this will work first time so keep pushing, create solid evidence backed case and ask Amazon why they cannot support your case when you have provided full evidence of brand ownership.
Link your brand-named product to your Amazon brand store
Remember, to make sure you use the dropdown option for your brand on the edit page to make sure your brand is associated and linked directly to the ASIN, it is crucial to do this manually as Amazon just updating the brand may not fully add the product to your brand.

Amazon brand names are still changeable with evidence of brand ownership but cracking that nut can be difficult unless you know how to deal with support, have a good understanding Amazon brand registry and intellectual property rules.
If you are still struggling, remember, we are here to help!