Does Amazon Ads Impact On Amazon Organic SEO/Ranking?
One of the biggest changes to Amazons algorithm over the past 18 months is the huge organic impact given by running Amazon sponsored products.
We spotted this trend nearly a year ago with a client who decided to just stop running ads as they found it an unnecessary expense. However, in doing so, in 30 days they lost all their ad sales but also 59% of their organic sales too.
Amazon is becoming partly pay-to-play. That is the reality of Amazon driving more profitability to the channel and Amazon offsetting its struggling retail business.
A Client example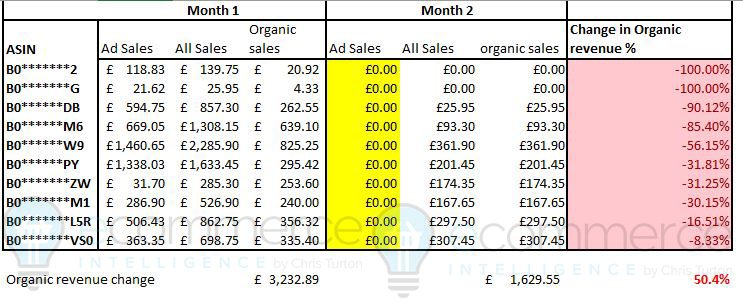 In Summer 2022 our client wanted to reduce spend on low margin items in their advertising. They asked to stop advertising on these 10 major ASINS. What we see above is a very clear change in their organic sales.
We ran multiple analysis to look at why sales had dropped off and discovered something that had been floating around the Amazon message boards and whispers between our team for a month or so.
In month 1, £3232 of organic sales on Amazon were generated along with about £5000 in sales from advertising. Generating over £8500 in sales.
When this was turned off in month 2, as well as the £5000 advertising sales we see quite clearly a drop of 50% just on these 10 lines.
If there was no correlation, we may see a slightly smaller drop but not HALF of their organic sales.
There is no seasonal change here, the data we ran was between June and July, which when looking at YoY (year on year) data we saw no real change. We saw an active change in ranking positions for some of their leading keywords but ultimately this proved that stopping advertising clearly impacts on the organic positioning of these products.
We have seen an identical change in several other clients who have decided to make changes in their advertising or who have just turned them off to "save money".
Amazon ads dashboard does not show you the true picture
Its very easy to look at the Amazon ad console spend and make a judgement, however it is crucial you do not make decisions here, because it does not show you the true picture, you can only see your ACOS (Advertising cost of sale) and ROAS (return on advertising spend) metrics here.

If your ACOS is at 25% its very likely your TACOS figure is between 5 – 10%.
Across our client average, our ACOS is 21.3% and our TACOS as an agency is 5.6%. This means that we generate £100 of sales for our clients on every £5.60 spent.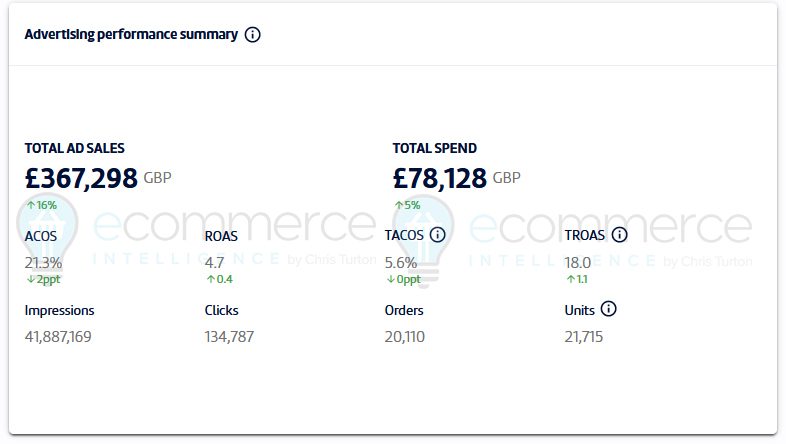 The Analytic Index/Bobsled Marketing Whitepaper
The Ecommerce data experts Analytic Index created a whitepaper titled "in it to win it" with Amazon agency Bobsled that looked at this change that all amazon consultants and agencies have begun to see and the data was staggering. You can download the whitepaper directly here.
The insights are fascinating and the datasets they have used are vast. One of the most important factors is this below. This shows that based on their research the correlation between categories is vast but is at a minimum 21% and a maximum of 69%. The data was from 4 billion data points in Q2 2022 and across 11 million items and 21000 categories!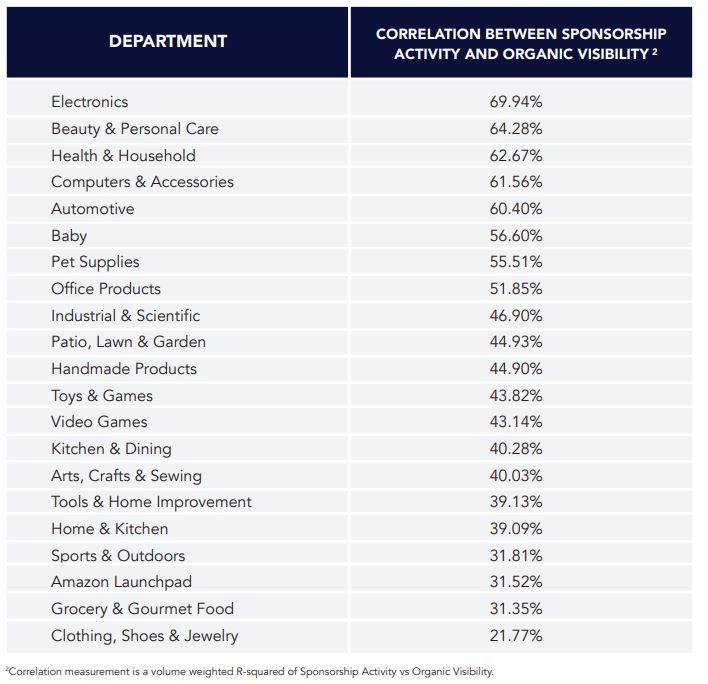 Source: Analytic Index/Bobled Marketing.
Using TACOS Is the only way to calculate profitability and true effectiveness on Amazon
Amazon ads console only gives the ACOS or ROAS metric in the ads console. However as we have demonstrated above, this does not give a true picture to your return on investment on advertising because so many of your organic sales are gained from your Amazon sponsored products, according to Analytic Index & Bobsled this can be as much as 69%
To get a true figure you need to compare your ad spend versus at least 69% of your overall sales revenue.
Top tip: ACOS is not a good metric to review amazon advertising performance, TACOS is a more accurate metric as it takes into consideration your entire ad spend versus ALL your sales.
Second top tip: Do not just stop Advertising will directly Impact the SEO performance of your listings by upto 60%.
Google ads and Amazon Ads do NOT operate the same
Many experts in google PPC may try and adapt their hand to Amazon ads but theres two clear definitions.
Google ads does not impact Google SEO – Amazon ads impacts directly on Amazon SEO
The majority of google users have different search intent to Amazon users, Amazon users are on a shopping platform to purchase
Top tip: don't compare google ads with Amazon ads. Google PPC does not correlate directly to Google SEO where Amazon DOES.
You can't rank just from advertising
Its crucial at this point to remember that like everything, Amazons sales velocity relies heavily on:
Product page performance and quality
Customer experience of your product
Quality of the ad campaigns
Product availability and in stocks.
This is another reason why an Amazon PPC agency can only do half the job as an Amazon ad is only as good as the listing that supports it.
Conclusion
The truth is amazon advertising helps organic sales and ranking by a big margin. Amazons algorithm relies heavily on sales velocity and this above evidence shows that whatever we believe about A9 or A10 algorithms and perceived factors to ranking on Amazon, advertising impacts sales velocity and that impacts ranking by varying degrees based on your category