Our Amazon ad process (Client confidential)
We handle advertising as a verified ad partner and our team hold certifications in Amazon seller university for advertising.
We currently handle over 40+ accounts with a monthly spend exceeding £70,000. Our current TACOS results on average are 5.9% and our ACOS results are 21.5% or ROAS of approx. 4.8.
Whilst we keep our tried and tested process confidential, here is a few FAQs regarding working with Ecommerce Intelligence on your Amazon Ads account.
Here is a brief overview of how we structure out our campaigns.
What is Your Experience and Qualifications on Amazon Ads?
We work as a verified ad partner for Amazon with current certification with our team as well as a knowledge based across over 40 different clients in multiple countries.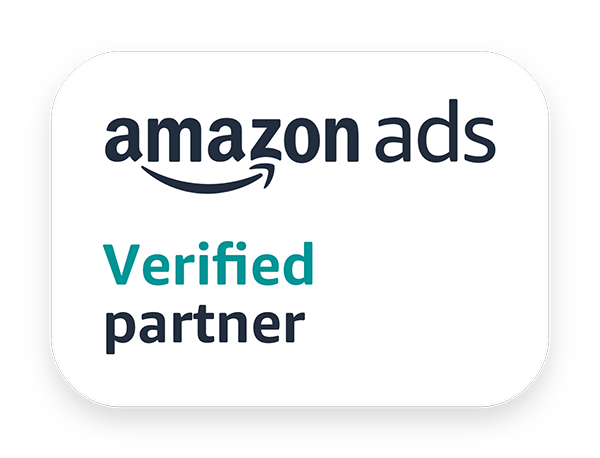 Our KPIs are focused around TACOS (total advertising cost of sale) and we have a full time member of staff solely dedicated to the optimisation of ad accounts as well as the support network of our wider account manager team.
We also work closely with an amazon account manager on behalf of our ad partner status.
Is the process like Google PPC?
Amazon PPC has an impact of upto 59% to Amazon organic results, you can learn more about this here. Google PPC does not.
Googles search customers are higher in the shopping funnel as they find informational requests, over Amazon a shopping website where customers are more likely to make searches for transactional and shopping results.
How long does it take to see results?
Results are dependent on many factors including whether the product has sales history or not but a good return on investment on your product should take between two weeks to three months.
This will depend on the conversion rate of your product – such as the listing quality, keywords, content and crucially the account management and customer experience behind it.
How Do you Build Campaigns?
All of our campaigns are built at individual or parent ASIN level this is to keep relevant keywords and search terms in line and fits within best practise guidance.
we start with small budgets and optimise keywords not only through our manual campaigns but also within the PDP (product detail page)

Our campaigns are individually focused at Auto and manual levels and feature upto 5 different campaigns per ASIN. This tried and tested approach allows us to clearly identify ASIN performance and keywords.
How do you monitor results?
We use a range of tools from reviewing our analytics data from two industry leading tools for Amazon sellers as well as directly from Amazons business reports, we also monitor this data every week to maximise the potential for client's growth.
Where do we review results?
Our reports will give the most accurate information, these are sent to you approximately the 5th of the following month. Reviewing amazon ad spend within the ad console will not give you the most accurate information. The information is also not live – there is 48 – 72 hours of delay.
Our reporting tools will provide accurate ACOS and TACOS data to give a true reflection of return on investment spend.
Our current spend and results in March 2023: