Amazon A Plus Content
Brand content on Amazon is the practise of replacing the description pages so they look gorgeous and can really help develop your brand and product pages, allowing you to go further with high quality images and text with a simillar detail you would find on any brands ecommerce web pages. Not only is its visual appeal strong, it also appears above bulletpoints and other key buying features on mobile.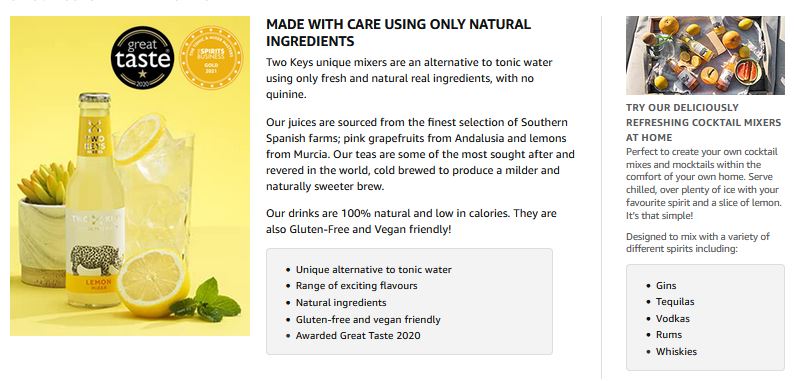 Amazon A+ Content: What is it?
Amazon A+ Content is a very unique tool which can be found within your Seller Central/Vendor Central account, allowing you to create beautiful and customized Amazon product descriptions for your listings.
Previously referred to as Enhanced Brand Content (EBC), A+ Content is available to all brand-registered 3rd party sellers and vendors. It's currently a free feature that thousands of sellers are utilising and benefitting from tremendously, as a result.
Sellers who are not using A+ Content are limited to using just 2,000 characters without any images or graphics for their product descriptions. But ask yourself this: would anyone want to read a large block of text to find out more about a product, or read a description that has images and graphics which quickly paints a picture for them and tells them 'at a glance' what the product can do?
Exactly!
The best part is A+ Content comes with a variety of modules, allowing you to customise how your product details are displayed through images and graphics. This provides for a very unique look and feel to your descriptions – rather than just plain, boring lines of text – keeping potential customers far more engaged, as a result.
Where does A+ Content appear and what does it look like?
If you go to your product detail page and look at the Product Description section, that's where you A+ Content will appear, as it replaces the regular (plan and boring) text-only product description.
The thing about Amazon A+ Content is that you can customise it however you want. This gives you the ability to add images and graphics, as well as large infographics and descriptive text strategically throughout your product descriptions – ensuring that the viewer's eye is drawn to key elements in order to help them make buying decisions.
What is Amazon Enhanced Brand Content (EBC)?
A+ Content was formerly known as EBC or enhanced brand content – a chargeable service which was accessible through Amazon's brand registry (ABR) programme for vendors. Over time, it has evolved and now available to all Amazon brand registry users, whether they have an account on Vendor Central or Seller Central.
To take advantage of A+ Content, you need to register your brand into the brand registry programme, although you will require a registered trademark in your operational region in order to join the free programme.
Who can use A+ Content and how much does it cost?
Amazon A+ content is available to all professional sellers and brand owners who have been approved via the ABR (Amazon Brand Registry) programme.
Once you have approval, you can move forward in two ways:
Basic A+ Content – This grants you five standard modules per listing to use for product descriptions, which are free and available to all sellers/vendors.
Premium A+ Content – This grants access to seven modules per listing along with additional features which are only available to brand owners and professional sellers which have been approved as 'brand owners'.
The cost of A+ Content can vary a little, depending on how you want to leverage it for listings:
Self-service modules, for instance, cost around $400 or £320 per listing, giving you complete control over the layout and design of your listing, as well as the freedom to place content and images according to your liking. This is considered a viable option for sellers who have a fair amount of experience in branding and marketing to a specific audience.
Amazon builds for you will set you back by about $1,500 or just over £1,200 per listing. This option is ideal for sellers who have limited or basic knowledge of how to market and brand their products on a large platform like Amazon. This option is costlier as it requires you to send your content and images to Amazon so that they can do the marketing and branding for you. Therefore, Amazon will come up with the most suitable product description design and layout as per the demands of your listing.
How do I create A+ Content and are there guidelines to follow?
Okay, so let's quickly go over how to create A+ Content:
Go to your Seller or Vendor Central account and log in.
Now go to 'Merchandising' and click on "A+ Detail Pages".
You will see the two options we just discussed – Self-service or Amazon builds.
If you choose 'self-service', Amazon will take you to a page where you will enter the ASIN of the product you want to create the content for. A list of options with specific modules and layouts will pop up.
Choose the ASIN along with your preferred module/layout (you can choose up to 5 per listing from the available 12)
Now, if you prefer a specific module, you can use it every time or you can keep things interesting by assigning a different module for every listing. However, the cost will vary per each module package.
After selecting your modules, click 'continue', then 'add to cart' to see the final price you need to pay.
Alternatively, if you choose 'Amazon builds', you'll be taken to a page where you can upload your text and images, which will then be submitted to Amazon.
Next, give your project a unique name, one that's not only descriptive but also easy to recall.
Now you can design your layout and then upload it, although it's important to preview it before publishing.
Select 'finish' once you are happy with how your listing looks. Amazon will then review it and make it live within 7 days, if it is approved. If not, then you will receive a notice, asking you to tweak your listing and resubmit.
Now, let's shed some light on the guidelines:
A+ Content is not something you can use to improve your page ranking. If you want to do that, then you need to consult an Amazon marketing agency who will work on optimising your listings.
After your page goes live, you have just two business days in case you want to make edits. This is why we emphasised earlier that you need to double check your content to make sure you are happy with it, before clicking 'finish'.
Your competitors cannot be mentioned either by their brand name or product name/listings within you're A+ content pages – for example, "Our product is better than insert competitor name". If you do, you're A+ content will be rejected.
Your text and images cannot be copied and pasted from another listing – they have to be fully unique for each listing.
Choose wisely – you're limited to 5 product listings per vendor. So, consider which one of your product listings are really worth the fee. For instance, the underperforming but high-quality ones which could use a boost or your best selling products which you feel require additional promotion?
Create Amazon A plus content
There are plenty of Amazon blogs to show you how to create great premium A content but, honestly, its a simple template compromising different modules. a drag and drop affair, We want to give you an insiders guide into how to make the most out of the content manager and enhancing your product detail page. You can access your amazon a plus content from selecting "A+ content manager" under the advertising menu in seller central.
Key Tips for Great A plus content
Make the most of using comparison charts for key product lines, this will really help customers make informed decisions on your product listings and related products.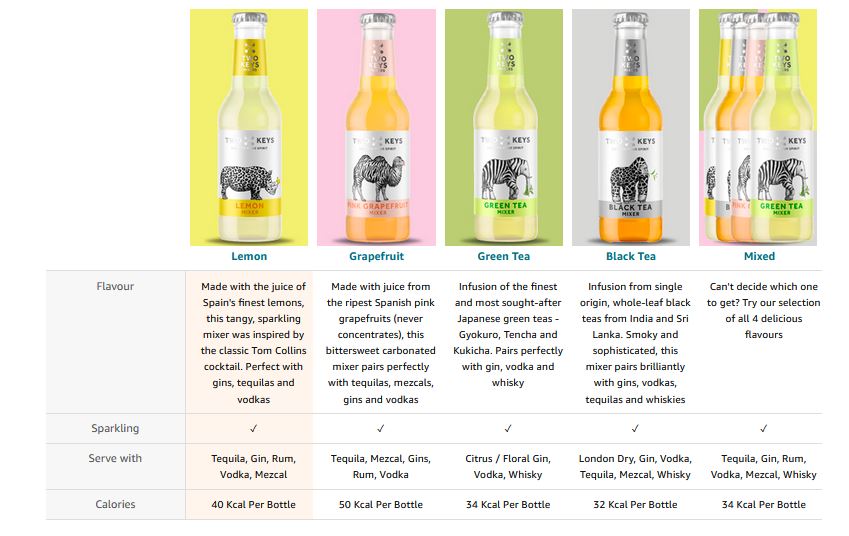 Don't repeat images, remember, A+ content is there to enhance the brand, key buying decisions for your customers should be made in the bullet points, title and images
Share your vision with your customers – A+ pages allow you to expand and really sell your products features.
Use high quality images – Amazon will recommend image asset sizes in pixels for many of its modules so its always best to get these spot on with high resolution.
Best A+ Content modules to use
Product listings can potentially become a lot richer once you implement A+ Content. For this reason, we've hand-picked a few content modules to help you get started:
Standard image header with text – This module provides a very impactful image at the top, followed by textual content.
Standard comparison chart – This powerful content module piece lets you compare a variety of features from your product listings within just one concise piece, such as when you're selling different kinds of laptops, for example.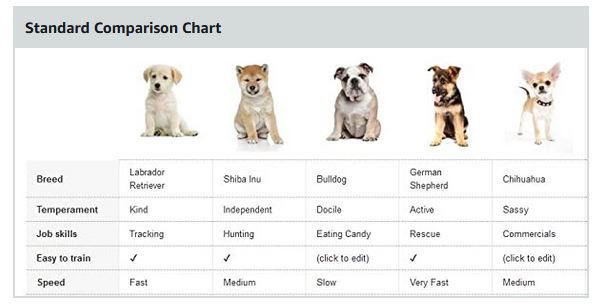 Standard single image & highlights – This standard module is excellent for developing additional product content and showcasing key features which cannot otherwise be highlighted in the basic product description and product listing additional bullet points.
Standard multiple image module A – If you want to use high quality images to expand your products' main image line, then this module allows you to use descriptive data to draw on important features which cannot be drawn upon otherwise through standard product descriptions.
There are other modules to choose from as well, and you can experiment with different ones according to your needs, although you may find it challenging at first to decide which one offers the most bang for the buck.
We believe these are some of the most powerful modules available to Amazon sellers as they add a new dimension to an otherwise dull and fairly basic product description. Plus, enhanced images are far more effective than text content as a picture can tell a thousand words – make sure you use A+ to tell yours!
Learn More About A+ Content, Get In Touch Today