Freetrain (Amazon Product Launch)
The Challenge
Freetrain was an existing brand, but new to the Amazon market. With an array of branded and non branded products on Amazon in the Running Vest category, we were up against existing competition while also competing with similar purpose vests such as Salomon.
With the extensive content, images and videos from Freetrains marketing, we used this to build the product listing alongside extensive keyword research. As the market changed over the year with more and more competitors joining Amazon, we kept up to date keyword optimisation on the listings. Building reviews was key to help the progress of the listing, with both the V1 & VR enrolled in vine, this helped gain traction on the products and the positive feedback from the vest helped with product conversion and also ranking with the reviews.
Building The Brand With A+ and Store Front
With the brilliant marketing from Freetrain, we built informative and image-based A+ to showcase the product. With Freetrains sports connections, we included key product ambassadors such as Jack Grealish and Connor Benn to highlight the versatility of the product from not just running but to other sports such as football and boxing.
The storefront captures Freetrains branding, using their video marketing and unique product features we have seen £5000+ in sales from the store alone.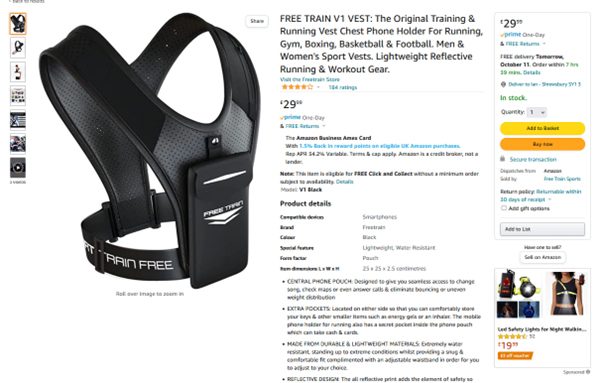 Design Right Removals Work
With over 200 reports of infringements and escalations on products, we have seen infringing products be removed from the marketplace permanently. We have worked alongside freetrain with their registered design right to remove the products that inflict on their intellectual property.
Our work started by searching the marketplace under different keywords to find the infringing products, with the list ongoing, we would do regular checks to find new or old infringers who were selling again to escalate with Brand Registry. Using the Report A Violation tool, we have managed to remove over 150 products successfully with the Registered Design Right.
Growth (the numbers)
Page 1 ranking for "running vest" and other leading search terms within 60 days, Amazons choice for several keywords including
Launch in September 2021, over 300 sales after 60 days, average 600 a month sales within 6 months, market leading product
14% ACOS, 7.5% TACOS, strong visibility across all branded keywords.
What the client says
"Working with E-commerce intelligence has been great all round, one of the main benefits we have found is there will and knowledge of how to protect our brand / products on amazon, we have intellectual property on our products and they have been fantastic at using this in order to get counter-fits / knock off brands taken down and off the platform. Could not speak highly enough of the guys." Jack Dyer – Co Founder