How to Make The Perfect Amazon Brand Store
A few years back the boffins at Amazon realised that Brand's needed better representation, brands have been core to Amazons business model not only to support selling on Amazon directly but to give a stronger "all in one" presence for seller account and in particular strengthening the product detail page. We support all our brand clients to create an amazon store making these multi page "micro sites".
There are loads of videos and blogs out there giving you a step by step guide to create an amazon store but instead, we thought we would drill into the heart of what makes the store an incredible tool for brand awareness and to allow Amazon customers to see a larger range of your product listings and provide additional detail, and also some key tips to getting the most out of amazon stores, plus its totally free!
Why Amazon Brand Registry Is Required
An active registered trademark is required via Amazon brand registry when creating a brand store as well as a professional seller account. You will need to either have an Amazon seller account on seller central or be associated to Amazon's vendor programme to access stores via the Amazon advertising platform.
If you are unsure of what Amazon brand registry is, simply visit https://brandregistry.amazon.co.uk (if you are in the UK replace with amazon.com if your in the US) and from there follow the instructions to register your brand, you must have your registered trademark brand name in that local region in order to sign up. We strongly recommend you use the same email address to register for Amazon brand registry as you do for your Amazon seller account.
The brand name on your products must perfectly match whats in your trademark in order for you to connect your amazon store, again, this will only work for brand owners who have successfully connected their Amazon business to their seller central account.
Where do i find it in seller central?
Amazon store sits under the "stores" tab in the main navigation on seller central, this will redirect you to Amazons advertising portal, it can then be found second on the menu.

How To Create An Amazon Seller Storefront
Having a brand on Amazon gives you some fantastic tools but the brand store creation process is so simple with a great drag and drop tiles interface and easy to add video and rich media. Your amazon store should be an extention of your existing brand and website and will really help you start selling to a bigger audience.
You can split your Amazon storefront into multiple product categories creating multiple detail pages. The store builder is such a simple self service tool and is powerful enough to replicate brands websites.
Simply, create your content tiles, review on the visual editor to get a store preview on both desktop and mobile and submit for publishing.
Best practise tip: We recommend a simple web map showing a homepage/about us and then categorisation of your products.
Brand Store Best Practises
There are a few guidelines to follow in order to optimise your customers shopping experience
Use the homepage to really showcase your brand, with leading products in your amazon catalogue and images supporting your product categories.
Lead with a text section to get across your brand story
Use a high res brand logo
fully utilise the meta description on every page as well as the "highlight" template for key product pages.
Use image sections to define your product categories and best sellers products with high quality lifestyle images
Create a great brand lead video or background video alongside your product grid
DON'T make it overly confusing and use too many content tiles or create too many pages, keep it concise to keep the reader interested.
Use asset library tags – these are simillar to website "alt tags" and have SEO values
If you create the "deals" section – this will show as an error when your deals run out, use with caution.
You can tick a box to hide products when out of stock, to improve customer experience we recommend you do this.
review "insights" to see your traffic sources where customers are clicking and buying
Amazon Stores – What are the benefits?
When you create an amazon store it serves as a clickable link at the top of your product pages detail page underneath the title and gives your brand more validity, not just on Amazon but allows you to show your brands creative power content and video all in one place even if you don't sell on Amazon, you can still get the benefits of having Amazon stores connected to your brand.
It will help grow your business by allowing millions of customers from the marketplace know and understand your business is a legitimate brand building trust in new products. You can even give your store a vanity URL and drive traffic too it from external sources.
You can also incorpoate great content into your product detail page using the A+ content manager, it uses a simillar template framework to amazon storefronts with a product grid system
Does Amazon Store Improve SEO or show more in search results?
Currently, from our data we don't believe any page from an amazon storefront produces SEO value either on Amazon or Google. It is more aesthetic to drive additional value to your product detail page, so far it looks like very few amazon brand registry tools give additional benefits to search positioning, apart from vine customer reviews which can help boost a new product and the recently launched "manage your experiments" tool which allows A/B testing for titles and images.
What does the future hold for Amazon stores?
As we see Amazon develop very powerful tools across its brand registry and their relentless support of brand lead businesses, we think as a consultancy its likely that Amazons next step will be to drive prominence too these brand stores, through sponsored product ads, website sections and maybe even leading segments on product category pages, similar to how Amazon is starting to develop long content using "recommended articles". When you create an amazon store it will massively help the shopping experience of your customers.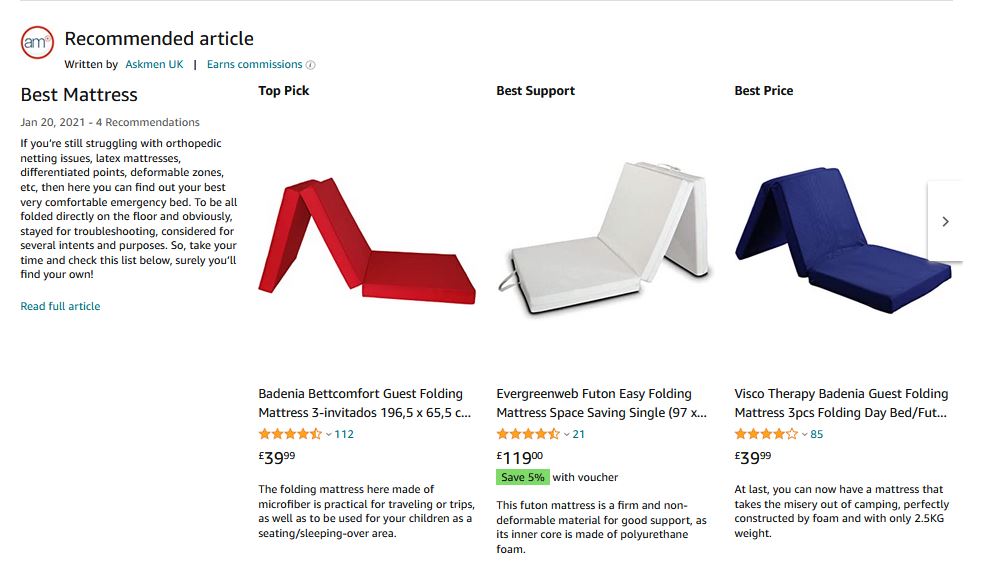 Find Out More About Brand Stores, Get In Touch Today